The American Association of Nurse Practitioners® (AANP) has honored Kathleen Page, a Kapiʻolani Community College Nursing Program faculty member, as the 2023 recipient of the AANP State Award for Excellence in Hawaiʻi. The award is given to an individual nurse practitioner (NP) in each state who has demonstrated excellence in clinical practice and has shown efforts to advance the image, profile and visibility of NPs at the state level.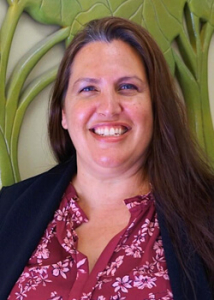 "I am so honored and humbled to receive this award. It means so much to me to be recognized for my dedication to the profession of nursing and advanced NP practice," said Page. "This reminds me to remain passionate about providing high-quality health care services to our community of Hawaiʻi. I am so thankful to all those who I have worked with that made this possible."
Page, a registered nurse and family NP, is in her second semester of teaching in Kapiʻolani CC's Nursing Program. With 18 years combined of nursing and nurse practitioner experience working in acute care, inpatient hospital care and community health care, and specialized experiences in the field of medical care, she helps foster the training of nursing students, student NPs and NP residents.
"I hope to continue to grow and develop future healers for our community," Page said. "In the State of Hawaiʻi there is a great shortage of both nurses and primary care providers. I aspire to be able to educate and train future nurses and NPs who can meet Hawaiʻi's growing health care needs in the years to come. My greatest desire is to create health care professionals who can provide culturally-tailored, holistic health care to our community of Hawaiʻi."
Award winner has history of service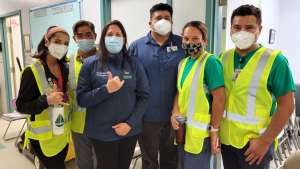 Prior to joining Kapiʻolani CC, she served as the program director for Waiʻanae Coast Comprehensive Health Center's (WCCHC) Na Lei Kukui Nurse Practitioner Residency Training Program. In this role, Page managed the operations and development of WCCHC's NP Residency Program, which trains both family and adult-gerontology nurse practitioners.
Under her leadership, the program became the State of Hawaiʻi's first and only fully accredited NP Residency Program through the U.S. Department of Education's federally recognized National Nurse Practitioner's Residency and Fellowship Training Consortium. The program includes mentored rotations in multiple specialties, independent practice experience and didactic sessions. Page is a former resident of this program.
Page continues to serve as WCCHC's director of Acute Care and Extended Primary Care and primarily works with the underserved community of Native Hawaiians and Pacific Islanders on the Leeward coast of Oʻahu. She leads her team to provide a full spectrum of primary care and acute care services at clinics in Waiʻanae and Kapolei.
In addition, she is a captain in the United States Air Force Reserves with 15 years of military service and serves as a family NP in the 624th Aeromedical Staging Squadron.
AANP is the largest professional association for NPs of all specialties, with more than 121,000 members. Each year, NPs across the nation are nominated by their colleagues for the state awards for excellence.