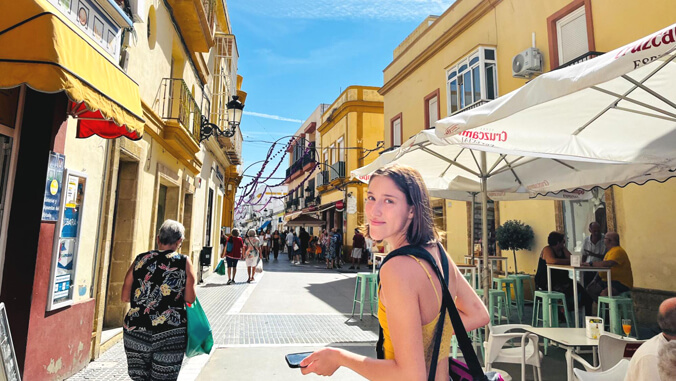 Riding camels, perusing street markets and indulging in traditional meals were some of the highlights of University of Hawaiʻi at Mānoa student Victoria Miranda's three-month journey abroad. Miranda spent the fall 2022 semester studying in Seville, Spain through the Study Abroad Center (SAC)—one of UH Mānoa's many opportunities for students to expand their cultural horizons. She describes the semester as a "surreal" experience that allowed her to build her independence as she adapted to a new way of life.
"One of the biggest things was that I grew a lot in my independence," said Miranda. "At least for me—and I think for most of the other people that I studied with—it was our first experience building a truly different life in the sense of language, culture and people."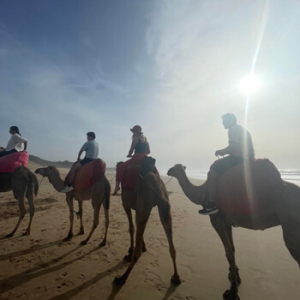 Miranda, a sophomore majoring in communication with minors in English and Earth science and a certificate in geology, was able to earn 15 Mānoa credits through her classes in Seville. Her interest in studying abroad initially stemmed from hearing about her aunt's exciting college study abroad experiences. In her first semester at UH Mānoa, Miranda met with an SAC advisor and ultimately decided to apply for the Seville program.
SAC empowers students to gain a deeper knowledge of other cultures and their environments by offering semester, year and summer programs that allow students to earn Mānoa credits while studying at overseas institutions. Programs are offered in cities across Europe, Asia, Oceania and Latin America.
"Studying abroad is a great opportunity to broaden global perspectives, all while fulfilling Mānoa degree requirements," said SAC Director Sarita Rai. "Although moving abroad can be a big step, the experience is one that students can remember for the rest of their lives, and we are here to support them throughout the process."
Adventure in Morocco
In addition to her classes and day-to-day activities in Seville, Miranda had the opportunity to participate in excursions that were included in her SAC program fees. One of Miranda's favorite memories from the semester was a group excursion to Morocco that was arranged by SAC.
"It was remarkable—the organization of the program and everything that they had planned for us even by the day that we got there," said Miranda. "They gave us a whole itinerary of all the trips and everything that was included while we were staying there. All of these trips were part of the tuition, so that was a really amazing perk that I didn't totally know about going into this experience."
The three-day trip to Morocco was full of adventure, including a group camel ride on the beach and a traditional Moroccan dinner complete with music and henna tattoos. One of Miranda's favorite experiences was the group's visit to Chefchaouen, or the "labyrinth city"—famous for its narrow, blue-painted walls. There, Miranda visited the city's massive street market, which sat against a picturesque mountain backdrop.
"Every now and then, everyone experiences moments where you're kind of like, 'wow, this is really amazing, this is something I'm definitely going to remember,'" said Miranda. "To have so many times where I felt like that in such a short moment in my life was really cool—just to constantly feel like I was making a lot of really important core memories."
For more on Miranda's experiences abroad, read her blog posts on the International College of Seville website.
How to apply through SAC
Students who are interested in studying abroad can use SAC's online application to apply for any of the center's semester, year or summer programs. The online application includes the student's personal statement, three or two academic references (depending on the semester or summer programs) and a $30 application fee. Deadlines vary depending on the academic term being applied to. Application deadlines can be found on the SAC website.
"The application is not anything to stress over," Miranda advised. "From what I have experienced working with some of the people in the Study Abroad Center, they really want to see people who are eager to be getting out there and taking advantage of these opportunities."
For more information or to apply for a program, visit studyabroad.hawaii.edu.
—By Alisha Churma