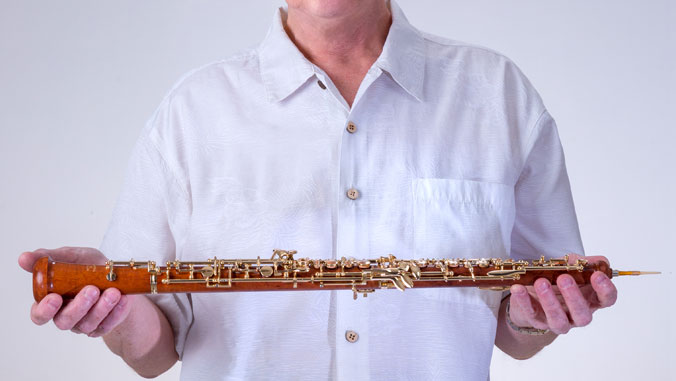 A one-of-a-kind oboe, made of Indigenous Hawaiian kauila wood, will be transferred to University of Hawaiʻi at Mānoa's Music Department, joining dozens of other unique instruments of cultural significance for which the university is the steward. This will hopefully lead to future collaborations among UH Mānoa's various departments, including the Hawaiʻinuiākea School of Hawaiian Knowledge and ethnomusicology within the music department.
The instrument was created through the Hawaiian Oboe Legacy Project, which began in 2016 with a gift from kahuna Ed Kaiwi and luthier (maker of stringed instruments) Mickey Sussman of rare kauila wood from a tree native to Kōkeʻe, Kauaʻi that was damaged by Hurricane Iwa in the 1980s. The wood then traveled halfway around the world to instrument maker Howarth of London, where the oboe was built.
"It is a wonderful honor for the UH Mānoa Music Department to be the home of this important and exquisite instrument," UH Mānoa Music Department Chair Larry Paxton said. "For years to come, students will learn and admire the significance of this instrument within our historical heritage and diverse music community. We take our stewardship seriously and look forward to not only using this beautiful instrument in concerts but also displaying it for the future concert audiences as well."
"I am pleased and honored to have the University of Hawaiʻi become the steward of this important legacy project and know its messages of honoring the Hawaiian culture, protecting our environment, and using the special resource, kauila wood in its reborn version in the form of the oboe, will inspire and educate generations to come," said J. Scott Janusch, Hawaiian Oboe Legacy Project director and principal oboe in the Hawaiʻi Symphony Orchestra.
Featured performances
In 2019, the completed oboe was featured in several premiere performances of UH West Oʻahu Professor Jon Magnussen's Nā Kau ʻElua | The Two Seasons presented by Chamber Music Hawaiʻi and the Hawaiʻi Symphony Orchestra, with Janusch as soloist. In recognition of the significant age of the wood—the tree is estimated to have been 200–300 years of age—Nā Kau ʻElua | The Two Seasons was composed using "reclaimed" musical materials from Antonio Vivaldi's "The Four Seasons" (1721), a concerto from roughly the same time as when the Kōkeʻe kauila seedling began to grow.
Related story: Unique instrument of rare Hawaiʻi wood debuts at concert, April 18, 2019
"This wonderful development for the Hawaiian Oboe Legacy Project will help extend the life and voice of the beautiful, old kauila tree damaged in the hurricane during the 1980s. Much gratitude to Larry Paxton and the UH Mānoa Music Department for providing a new home for this special oboe," Magnussen said.
The instrument was previously under the ownership of local non-profit, Live Music Awareness, which is the fiscal sponsor of the Hawaiian Oboe Legacy Project.
"Live Music Awareness (LMA) is pleased to have served as fiscal sponsor for the Hawaiian Oboe Legacy Project," said Marsha Schweitzer, LMA board treasurer. "Although LMA technically remains the owner of the oboe, it was Scott's vision that the oboe would really belong to the people of Hawaiʻi, and that its voice would continue to be heard for generations to come. We are delighted that the UH Mānoa Music Department, the perfect place for Scott's vision to be realized, has agreed to become the oboe's custodian."