Updated February 12, 2023: Marcus Kemp played a key role on special teams for the Kansas City Chiefs in Super Bowl 57. The Chiefs were victorious 38-35 over the Philadelphia Eagles.
Updated February 11, 2023: Former Rainbow Warrior and current Kansas City Chiefs wide receiver Marcus Kemp was elevated from the practice squad on February 11, 2023 and will be on the active roster for Sunday's Super Bowl against the Philadelphia Eagles. Kickoff from State Farm Stadium in Glendale, Arizona is at 1:30 p.m. HST.
Original story: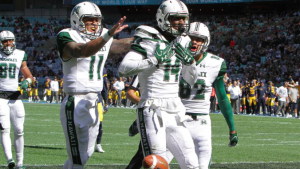 Former University of Hawaiʻi Rainbow Warrior Marcus Kemp played a role in Kansas City's AFC Championship victory in January and may be counted on again in the Chiefs' high-powered offense in the Super Bowl.
Kemp, who normally plays on special teams, was elevated from the practice squad to the active roster as a wide receiver just a day before the Chiefs' 23-20 win over the Cincinnati Bengals. He played a career-high 22 offensive snaps and secured one catch for 13 yards from a Patrick Mahomes pass in the fourth quarter. Kemp also played 18 special teams snaps.
Kemp is in his fifth season in the NFL. Prior to the AFC Championship game, Kemp appeared in three regular season games and was ruled a healthy scratch for Kansas City's divisional round win over Jacksonville.
"I've been next-man-up," Kemp told KSHB 41 Kansas City. "There's always that opportunity to play, especially on special teams. I've been around so long, I kind of know what I'm doing on that front. I know that at any moment they can call my number."
Kemp was sent back to the practice squad on January 30, but experts said that with ongoing injuries to Kansas City's receivers, Kemp could earn a spot on the NFL's biggest stage. If Kemp suits up in the Super Bowl in Glendale, Arizona on February 12, this will be his third Super Bowl with Kansas City in four seasons.
Kemp's UH career
The Layton, Utah native spent four seasons with the Rainbow Warriors from 2013–16. He played in 51 career games, racking up 176 total receptions for 2,570 yards and 13 touchdowns. Kemp's best year came in 2016 when he led UH receivers with 1,100 receiving yards on 73 receptions. He earned the Alec Waterhouse Most Valuable Player Award at the annual Nā Koa football banquet and received All-Mountain West honorable mention honors.