A new exhibit showcasing an array of hand-selected contemporary works from 38 artists across the pae ʻāina (Hawaiian archipelago) will open at the Hawaiʻi State Art Museum (HISAM) on February 10. More than half of the featured artists graduated from the University of Hawaiʻi campuses with a wide range of backgrounds such as sculpture, painting, fiber and medicine.
The exhibit, "Accession: new additions to the Art in Public Places Collection," offers an insight into current trends and themes in the local arts scene and provides an opportunity to see the diversity of works being created in Hawaiʻi today.
"The Department of Art and Art History prepares our students to be artists, art educators and historians, and museum professionals," said Gaye Chan, interim associate dean at UH Mānoa College of Arts, Languages and Letters who also served as art faculty and chair for 13 years. "Our alumni are among the most respected fine, craft and commercial artists of Hawaiʻi. They show their artworks in exhibitions and are a part of major museum collections."
The public is invited to an opening reception at HISAM, 6–9 p.m. All ages are welcome to visit the free exhibit, which will run through the end of the year.
"I would hope that the public takes away a greater appreciation of the diversity and richness of artwork being created in Hawaiʻi today and that the arts are alive and well and exciting," said Elizabeth Baxter, curator for Hawaiʻi State Foundation on Culture and the Arts (SFCA) Art in Public Places Program. "Besides the aesthetic and conceptual differences between the works, there is also a wide variety of approaches to art, and a complete blurring or disintegration of the line between art and craft."
Adorning
Hawaiʻi's

buildings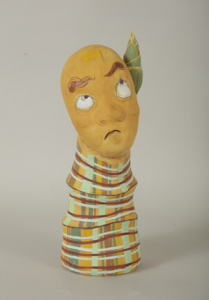 The exhibit's 51 recently acquired artworks were selected from juried and curated exhibitions across the state and will be added to the SFCA's Art in Public Places Collection, which distributes works of art to publicly accessible state buildings. In 1967, the Hawaiʻi State Legislature passed the Art in State Buildings law which sets aside 1% of the construction and renovation costs of state buildings to acquire and commission works of visual art that beautify and humanize the built environment.
UH alumni artists
Bernice Akamine, UH Mānoa BFA glass, 1994 and MFA sculpture and glass, 1999
Jake Boggs, UH Mānoa MFA ceramics, 2016
Tobias Brill, UH Hilo, 1994
Allyn Bromley, UH Mānoa BFA, 1968
Sean K. L. Browne, UH Mānoa MFA sculpture, 1983
Gaye Chan, UH Mānoa BFA, 1979
Ghislaine D. Chock, UH Mānoa John A. Burns School of Medicine, 1994
Lynn Martin Graton, UH Mānoa MA Pacific Island studies, 1981
Daven Hee, UH Mānoa BFA ceramics, 1999
Darius Homayounpour, UH Mānoa MFA textiles, 2000
Roen Hufford UH Mānoa BFA ceramics, 1973
Emily McIlroy, UH Mānoa MFA drawing and painting, 2011
Carl Franklin

Kaʻailaʻau

Pao, UH Mānoa BFA ceramics, 1994
Maya Lea Portner, UH Mānoa MFA fiber, 2006
Joy Sanchez, UH Mānoa BFA ceramics, 2021
Juvana Soliven, UH Mānoa BFA sculpture, 2013
Maile Yawata, UH Mānoa BFA painting, 1969