Star Hawaiʻi chefs, who are alumni of University of Hawaiʻi Community Colleges, extolled the virtues of growing up, learning and cooking in Hawaiʻi on an episode of The Splendid Table—a national culinary culture and lifestyle radio show and podcast.
Host Francis Lam interviewed chefs Robynne Maii, Sheldon Simeon and Ed Kenney during a live taping at the Hawaiʻi Theatre in January.
James Beard Award winner
"Culinary education belongs in community college"
—Robyn Maii
"God bless the community colleges!"
—Francis Lam
Maii, who won a 2022 James Beard Award, is the chef/owner of Fête restaurant in Chinatown and HeyDay in Waikīkī. She recalled how she decided to enroll in culinary school on the East Coast while she was a student studying modern dance at Middlebury College in Vermont.
"I quickly realized how expensive it was, so I came home and went to [Kapiʻolani] CC," Maii said.
She loved her culinary education and then she moved to New York with "a big chip" on her shoulder. At first, Maii thought all her coworkers who went to "fancy" culinary schools knew more than she did.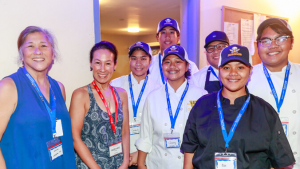 "Literally it took like two hours and I was like, 'You guys donʻt know more than me, you guys just think you know more than me,'" Maii recalled. "I feel like I got a really good lay of the land with culinary education, and—not to be dogmatic—culinary education belongs in community college."
Plus, the chefs who attended "fancy" culinary schools were in debt, and she wasn't.
"God bless the community colleges!" declared Lam.
Top Chef finalist
Top Chef finalist Sheldon Simeon, who owns Tin Roof and Tiffany's and on Maui, grew up on Hawaiʻi Island and attended culinary school at Leeward CC, before graduating from UH Maui College.
"You know I never thought I was going to be a chef growing up. It's just that food was always around me. Through culinary school—I attended Leeward here then finished up in Maui—you start to think, 'What's the chef that you want to become?'" Simeon said.
He recalled that Emeril Lagasse was "bamming it" on national television, while he was growing up watching Harry Kojima on Hari's Kitchen and Chef Sam Choy in Hawaiʻi.
At first Simeon thought he would have to mimic the food of the "big cities," but then came the invitation to compete on Top Chef.
Simeon said, "It was on Top Chef that I realized that I can cook the food of my upbringing and be proud about that, and be proud of how unique Hawaiʻi's cuisine really is and all these different cultures that have influenced it."
Getting 'cheffy' with it
Kenney, chef owner of Mud Hen Water, is a long-time leader in Hawaiʻi's restaurant scene. He started out working in commercial real estate development, which he called "boring," before his wife convinced him to take a trip around the world, after which he enrolled in Kapiʻolani CC's culinary program.
Kenney reminisced about growing up in Hawaiʻi and enjoying ʻopihi (the Hawaiian limpet), raw crab and ʻinamona (a condiment made from roasted candlenut and sea salt) at family parties.
"We've been given the task of being kind of 'cheffy' with these Indigenous foods," he said.
One of the long-time items on Mud Hen Water's menu is buttered ʻulu or breadfruit, a Hawaiian canoe crop that Kenney prepares with Chinese fermented black bean, sour orange and cilantro.
He also sources fresh coconut for other dishes, which he said has elevated the restaurant's food to another level.
Lam said, "Here's to going back to the way things were, sometimes."
—By Kelli Abe Trifonovitch