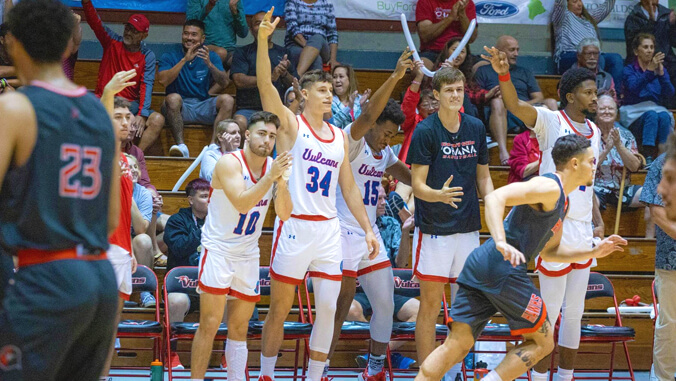 The University of Hawaiʻi at Hilo men's basketball team secured a spot in the Pacific West Conference Championships by defeating Holy Names University, 82-68, in a home game on February 8. Five Vulcans finished the game with double-digit scores. Kalique Mitchell led the team with 22 points off the bench on 10-of-12 shooting with nine rebounds.
Aniwaniwa Tait-Jones scored 15 points with eight rebounds. He is now 18 points from reaching 1,000 career points scored during his time at UH Hilo.
The other three double-digit scorers were Darren Williams (14), Carlos Ramsey Jr. (13) and Jarin Edwards (11).
With this win, UH Hilo moved to 15-5 overall and 11-4 PacWest play, and became the third team in the conference to clinch a berth in the six-team postseason tournament, scheduled for early March.
The Vulcans will have their final home game on February 11 against Fresno Pacific University.
For more, visit hiloathletics.com.