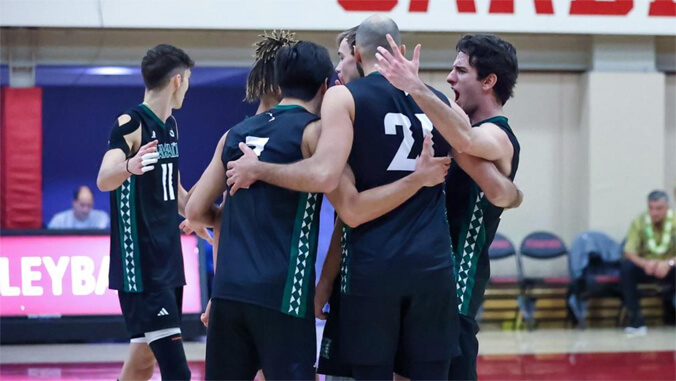 The top-ranked University of Hawaiʻi at Mānoa men's volleyball continued its streak of sweeps with its second straight 3-0 win over No. 8 Stanford Saturday in front of a capacity crowd at Burnham Pavilion. Set scores were 27-25, 25-19, 25-19.
The Rainbow Warriors (9-0) extended their overall win streak to 18 matches and their set win streak to 24 in their ninth straight win over the Cardinal. A pro-Hawaiʻi crowd packed the 1,300-seat Burnham Pavilion and rose on match point as UH closed out the match with its season-high 12th block of the match.
Opposite Dimitrios Mouchlias led the way with a match-high 17 kills, hitting .517 with four blocks. Middle blocker Cole Hogland had a team-high six blocks along with three kills while outside hitter Spyros Chakas added six kills, five digs and two aces. Middle blocker Guilherme Voss posted five kills and five blocks.
Hawaiʻi hit .333 for the match and its service game was efficient with six aces and nine errors. Five different players recorded an ace for the Warriors.
Read more at hawaiiathletics.com.