Two University of Hawaiʻi at Mānoa public health students have won national recognition for their research projects focused on Native Hawaiian health and the Hawaiʻi Suicide Prevention Strategic Plan. Tarin Tanji, a master's student and Saikaew Dudla, a PhD student, in the Office of Public Health Studies (OPHS) at the Thompson School of Social Work & Public Health, were selected to present their research posters at the recent American Public Health Association (APHA) conference in Boston.
Delta Omega, the public health national honor society, sponsors this annual competition at APHA. Each year, only 29 students from Delta Omega chapters nationwide are selected to participate.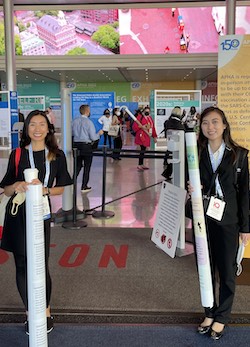 "Tarin and Saikaew represent the public health leaders of tomorrow," said Jeanelle Sugimoto-Matsuda, an associate professor of public health and the leader of the UH Gamma Chapter of Delta Omega. "Their projects were selected because of their potential impact on the field of public health as well as their innovative designs."
Tanji's research focused on identifying sources of resiliency in Native Hawaiian kūpuna (elders). She conducted a qualitative analysis of interviews with 20 kūpuna from rural areas in Hawaiʻi. Her results showed that kūpuna draw strength and resilience from their relationships with their ʻohana (family) and their communities, as well as from personal and cultural values and practices.
"My analysis suggests that health care providers who serve kūpuna should acknowledge their clients' history, strengths and resilience when helping them to address health challenges," Tanji said.
The goal of Dudla's project was to conduct an evaluation of the Hawaiʻi Suicide Prevention Strategic Plan. She interviewed people involved in suicide prevention in Hawaiʻi and analyzed the content of those interviews. Her results showed that suicide prevention is a community-centered process.
"My evaluation shows that the program will benefit if its leadership continues to work at sustaining relationships between the partner organizations and optimizing their communication," Dudla said.
Over the years, OPHS students have consistently been selected to present at the conference, including fall 2021 MPH graduates Keilyn Leinaʻala Kawakami and Taylor Ronquillo, and Amber Sophus, a PhD public health student who recently graduated.
"All of these students worked incredibly hard to bring forward important public health research," Sugimoto-Matsuda said. "We faculty members can't wait to see what they'll do next."
Read more on the Office of Public Health website.