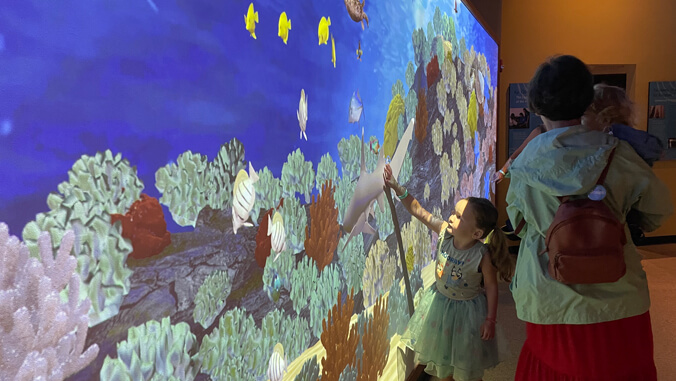 In celebration of its 17th birthday, the ʻImiloa Astronomy Center welcomes the public to enjoy free admission 10 a.m.–3 p.m. on Sunday, February 26 and soak in activities focused on Hawaiʻi's coral reefs. The educational outreach center located on the University of Hawaiʻi at Hilo campus will debut its latest exhibit, "He Honua Ola: A Vibrant Coral Reef," a 20-foot-wide touch-reactive screen that displays a virtual ecosystem based on coral reefs off the Kona coast. The event is sponsored by KTA Super Stores.
"The precious coral reefs that support diverse ecosystems in our oceans highlight the importance of conservation efforts for these unique environments and for future generations to enjoy healthy oceans," said Kaʻiu Kimura, executive director at ʻImiloa. "We are grateful for the generous support of KTA Super Stores, and we invite the public to celebrate our birthday with us."
The exhibit was completed with scientific support from field scientists at UH Hilo's The MEGA Lab, which shared footage of its coral reef livestream off of Kona and also contributed expert insight on coral reef species and characteristics.
Part of the dynamic exhibit allows participants to watch their scanned artwork of local reef fish come to life on screen. ʻImiloa will also feature coral reef clay art; reef activities and crafts; live planetarium programs with coral reef experts from The MEGA Lab; outreach activities hosted by the Hawaiʻi Department of Land and Natural Resources Division of Aquatic Resources, Hawaiʻi Wildlife Fund, Mokupāpapa Discovery Center and local food vendors.
"Every year, ʻImiloa showcases the important part we all play in the future of our islands through technology and science," said Toby B. Taniguchi, KTA Super Stores president and chief executive officer. "KTA Super Stores is proud to sponsor this year's event for the community to celebrate and grow shared appreciation for our coral reefs."
For more go to ʻImiloa Astronomy Center's website.