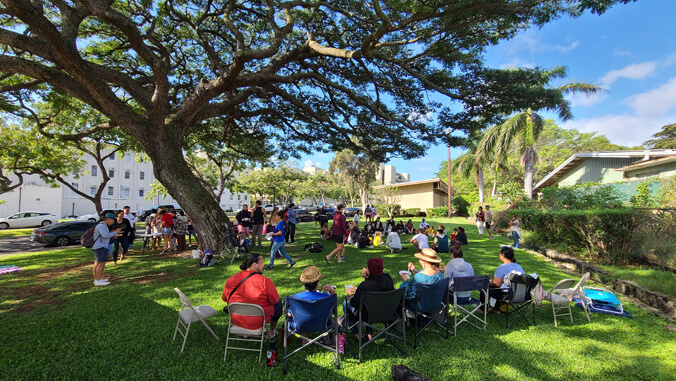 ʻŌlelo Hawaiʻi (Hawaiian language) students, faculty and staff gathered on the Maile Way lawn near Spalding Hall at the University of Hawaiʻi at Mānoa on February 10 to speak solely in Hawaiʻi's native tongue. The bi-annual event, Lā Launa Pū is organized by the UH Mānoa Kawaihuelani Center for Hawaiian Language, a part of Hawaiʻinuiākea School of Hawaiian Knowledge to encourage students (haumāna) to engage in more conversations in Hawaiian to help them retain the language.
"ʻO ka mākia o Kawaihuelani, ʻo ia nō ʻo ʻI pono nā mamo a Hāloa.' No laila, ʻo ia nō ka pahuhopu o kēia hanana ʻo ka Lā Launa Pū. ʻO ka manaʻolana, e lohe ʻia ka ʻōlelo Hawaiʻi ma ke kula nui, ma ke kaiāulu, ma ko Hawaiʻi paeʻāina a puni ka honua! Mālama ʻia kēia lā i hiki ai i nā haumāna ʻōlelo Hawaiʻi ke launa pū me nā hoa papa, nā kumu a me nā limahana ma o ka ʻōlelo Hawaiʻi, ʻo ia hoʻi ka ʻōlelo makuahine o kēia ʻāina o Hawaiʻi nei. (Kawaihuelani's motto is 'I pono nā mamo a Hāloa' so that is the goal of this event 'Lā Launa Pū.' Our hope is to have ʻōlelo Hawaiʻi heard at the university, in the community, around Hawaiʻi and the world. The event is held each semester so that Hawaiian language students can socialize with their classmates, teachers and staff in ʻōlelo Hawaiʻi, the language of this ʻāina, Hawaiʻi)," said Kainoa Wong, a kumu (teacher) at Kawaihuelani who organized the event.
Wong has taught ʻōlelo Hawaiʻi on the Mānoa campus for the last 17 years and has seen an increase in the number of haumāna interested in learning the once nearly extinct language. The first Hawaiian language courses were offered at UH Mānoa in 1922.
The event featured food, kanikapila (music) and traditional Native Hawaiian games to celebrate Makahiki (traditional Hawaiian observance marking time of year for harvest and peace). Attendees played ancient pāʻani makahiki (makahiki games) such as the stone rolling game ulu maika, and hukihuki, a form of tug of war.
Preschool-age haumāna from Pūnana Leo o Mānoa were among Hawaiian language speakers of all ages who also participated in the day's events.
"He mea nui ka ʻōlelo no kekahi lāhui. Hauʻoli nō au i ka lohe ʻana i ka ʻōlelo Hawaiʻi ma nā wahi like ʻole a me ka ʻike ʻana i ka haʻaheo o nā haumāna e hoʻomau ana i nā mea Hawaiʻi. (The language of a people is vital. I'm so happy to hear ʻōlelo Hawaiʻi all over and to see the pride that the students have who are perpetuating our language and culture)," Wong said.
Pepeluali (February) marks Mahina Ōlelo Hawaiʻi or Hawaiian Language Month, visit the website for more information.