For the first time in more than 20 years, a large-scale exhibition of Kānaka ʻŌiwi (Native Hawaiian) art is taking the stage within the University of Hawaiʻi System. The ʻAi Pōhaku, Stone Eaters exhibition opened at the UH Mānoa Art Gallery on January 22 and may be viewed through March 26. Stepping into the exhibition, viewers are immediately immersed in dynamic displays of captivating artwork spanning multiple generations and mediums.
"This exhibition is a small part of an ongoing story of contemporary Kānaka ʻŌiwi art, a story of resistance, a story of affirmation, a story that remains to be written, to be celebrated and to be shared," said co-curators Drew Kahuʻāina Broderick (Koa Gallery, Kapiʻolani Community College), Noelle M.K.Y. Kahanu (assistant specialist, UH Mānoa American Studies) and Josh Tengan. "By advocating for Kānaka artists and culture bearers, this exhibition offers audiences an opportunity to form meaningful connections to our diverse work while ensuring that our stories of art are sustained in our ancestral homelands and abroad."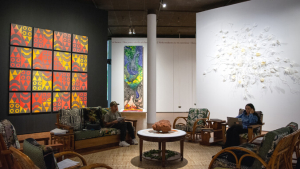 ʻAi Pōhaku, Stone Eaters presents new commissions, works-in-progress and existing artworks by an intergenerational group of nearly 40 poets, painters, carvers, weavers, filmmakers, photographers and musicians. Artists in the exhibition include UH Mānoa alumni and UH faculty members (current and former), as well as other artists from the community.
Honoring
ʻŌiwi

leaders

One of the artists is Kapulani Landgraf, a Title III project director at Kapiʻolani CC and a UH Mānoa alumna. Landgraf has multiple pieces in the exhibition, one of which is a stunning installation that pays homage to leaders in the Hawaiian community.
"When Haunani-Kay Trask passed away on July 3, 2021, I thought about how she will be remembered," said Landgraf. "From there, I thought about how we remember and honor our Hawaiian leaders who sacrificed so much for our lāhui (nation) and that is where the idea came from. This is a huge project, and in completing this installation for ʻAi Pōhaku, I knew I was missing many ʻŌiwi leaders and their important words that will not just inspire our lāhui now, but our future generations."
The installation features a video projection that displays portraits and quotes of numerous Hawaiian leaders. The projection is surrounded by strands of twinkling aluminum welo (crescents)—the particular shape of which came from a lau koa (leaf of a koa tree) that Landgraf found on Maunaloa.
"Like the koa aloha ʻāina (aloha ʻāina warriors) who fought on the slopes of Lēʻahi in January 1895 to restore Liliʻuokalani back to the throne and the koa aloha ʻāina who stand and protect Maunakea, each welo represents an ʻŌiwi leader and a lineage of ʻŌiwi leaders whether based on an ancestral moʻokūʻauhau (genealogy) or a kumu moʻokūʻauhau," explained Landgraf.
Visit the exhibition
ʻAi Pōhaku, Stone Eaters is currently on view at the UH Mānoa Art Gallery through March 26. The gallery is open Wednesday–Sunday, 12–4 p.m., but will be closed March 13–17 during spring break. Weekly curator-led tours are offered on Fridays and Sundays at 1 p.m., and artist discussions are held on Sundays at 2 p.m.
In addition to regularly scheduled tours and discussions, there will be three special programs in March, which will feature conversations with several of the exhibition's artists and curators:
Mai Paʻa I Ka Leo: Inception, Intention, Interpretation and Impact—March 5, 4:30–6 p.m.
Nānā I Nā Kumu: Investigations, Alignments and Complexities—March 7, 5–6:30 p.m.

Aʻo

Aku,

Aʻo

Mai: Critique as a Form of Empowerment—March 21, 5–6:30 p.m.
All programming is free and open to the public. Reservations are not required.
Unfolding over the course of eight months, the exhibition will later open at other venues in the UH System, including:
Koa Gallery,

Kapiʻolani

CC: February 19–August 13
Commons Gallery, UH Mānoa: March 5–April 2
Gallery

ʻIolani

, Windward CC: March 31–May 5
East-West Center Gallery: April 30–August 13
Hōʻikeākea, Leeward CC: May 1–August 25
For more information about ʻAi Pōhaku, Stone Eaters, visit the exhibition's website.
—By Alisha Churma