It was an exciting day of mock investigations and arrests—complete with body armor and handcuffs—for students who participated in the Citizen Academy presented by the Internal Revenue Service Criminal Investigation (IRS:CI) at the University of Hawaiʻi–West Oʻahu in February.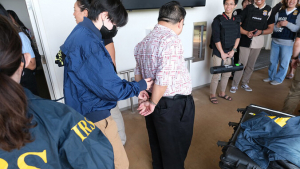 About 40 students got a firsthand look at what it is like for IRS:CI special agents to carry out an investigation—tracking illicit money to the criminal. Many were accounting majors, who came from UH West Oʻahu, Kapiʻolani Community College, Leeward CC, UH Mānoa, UH Hilo and Brigham Young University-Hawaiʻi.
"Citizen Academy was a hands-on experience in which you work with professional IRS:CI special agents," said Mary Yamut, a Kapiʻolani CC accounting major. "We worked with various cases that they would do on the job, for example, a drug dealer laundering money to finance his assets."
Who knew that CPAs were running investigations, knocking down doors and hauling criminals off to jail?
—Amy Little
Students were "sworn in" as special agents in the morning and were provided law enforcement gear such as body armor, inert/inoperable training firearms, handcuffs and radios. The students sharpened their forensic accounting skills and interviewed suspects, conducted surveillance and performed document analysis. The day ended when the students solved the crimes and arrested the mock offenders (volunteer faculty and staff members).
"I was really excited to learn about other career opportunities outside the typical office environments I expected for my major," said Amy Little, a UH West Oʻahu business administration major. "Who knew that CPAs were running investigations, knocking down doors and hauling criminals off to jail? I always thought a job with the IRS would have me stuck at a desk with a mountain of returns to look through, but I was thrilled to see there is more to a career with the IRS than just paperwork."
IRS:CI field offices have brought Citizen Academy to college and university campuses nationwide for years to provide students a glimpse into the career of an IRS special agent and what a criminal investigation entails. This is believed to be the first time Citizen Academy was held in Hawaiʻi.
"For over 100 years, IRS Criminal Investigation has worked some of the most impactful and complex cases in federal law enforcement," said Assistant Special Agent in Charge Adam Jobes with the IRS:CI Seattle field office. "We are always looking for the best and the brightest to become the next generation of special agents."
Little said it was one of the most impactful job-shadow events she had experienced, because it was so hands-on.
"Most of us can only dream of putting our professors in handcuffs after midterms," she joked, "but at the Citizen Academy event we did just that."
Read the full story at Ka Puna O Kaloʻi.
—By Zenaida Serrano Arvman