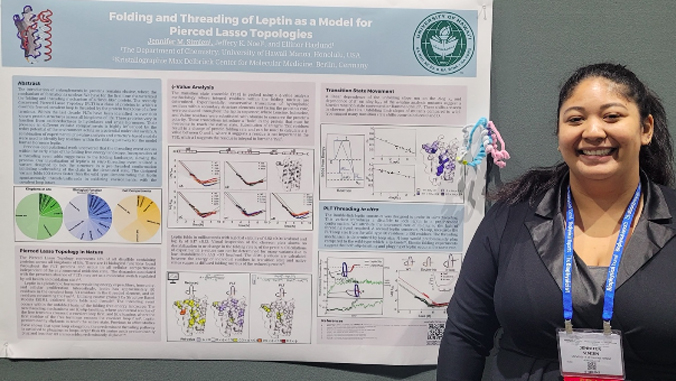 A University of Hawaiʻi at Mānoa PhD student won a national award for science research excellence. Jennifer M. Simien from the Department of Chemistry earned a Biophysical Society Student Research Achievement Award for her research on the hormone leptin which is a model system of the Pierced Lasso Topology (PLT). This protein structure controls the protein's function and influences human health, which was recently discovered by Assistant Professor Ellinor Haglund.
Simien was one of 36 winners in the country who were recognized for their outstanding presentations during the poster competition of the 67th Biophysical Society Annual Meeting held in San Diego in February. One hundred and twenty seven students participated in the competition.
"As an important hormone in human health linked to obesity, diabetes and cancer, this research is fundamental for understanding which regions of the protein are critical for folding and biological activity," Simien said. "By challenging myself to participate in the Biophysical Society Student Research Achievement Award poster competition, I have grown as a researcher. I am honored by the acknowledgement that comes with this award."
Topology refers to the way parts or components are arranged. PLTs are a type of "knot-like" structure found in 18% of disulfide-bonded proteins. Disulfide bonds play a critical role for protein stability and biological activity, regulated by environmental factors such as oxidizing and reducing environments.
Simien earned a bachelor of science in biochemistry in 2018 before joining UH Mānoa's chemistry PhD program. She plans to defend her thesis in either fall 2023 or spring 2024.
The Department of Chemistry is housed in UH Mānoa's College of Natural Sciences.
Related UH News stories: