The University of Hawaiʻi at Mānoa Spring 2023 Career Fair at the Campus Center Ballroom gave an estimated 400 students the opportunity to meet with 175 representatives from 78 organizations on March 7.
The event allowed students to connect with companies that were offering internships, co-ops and career opportunities. Additionally, the event boosted students' chances of interviewing with potential employers and enhanced their job search and communication skills.
"There are so many great booths and opportunities, even if you're not looking for a job at the moment," said Rylann Morales, a freshman majoring in art with a focus in education. "I'm glad I attended [the fair], because I saw how jobs could incorporate any major, like art, into any career. Every employer is enthusiastic about getting opportunities for students."
UH Mānoa career fairs are hosted every spring and fall semester, and tables are filled with employers from federal and state agencies, healthcare industries, non-profit organizations and more.
"Employers get the chance to meet the next generation of purpose-driven employees. The Mānoa Career Center and employers have noticed how the next generation is looking for more meaningful, impactful careers," said Wendy Sora, director of the Mānoa Career Center. "This is the first full-ballroom-capacity career fair we've had since the pandemic, and I think the in-person experience changes how the students view employers. The employers are no longer just someone the students purchase products or receive services from—they're people that can give the students an inside look of potential careers."
View the full list of employers online.
Ongoing support for students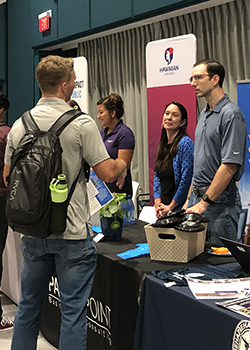 Employers and students have the ability to connect before, during and even after each career fair through the Mānoa Career Center résumé e-book, a resource for employers to contact eager students for potential job opportunities. Students can submit their résumé for the e-book online.
The Mānoa Career Center also provides additional job resources for students, such as pre-career fair workshops; a career fair guide to prepare them for the next fair; and personal counseling sessions.
"The support that the Mānoa Career Center offers students is beneficial for our overall professional development and long-term career success," said Ashley Taylor, a senior majoring in finance, human resource management and international business. "Many times, [students] can underestimate the power of a first impression, so utilizing the Career Center resources to better prepare for career fairs and meeting with employers is a great first step to ensure that our interactions with professionals make a positive impact. The tips I have learned from Career Center workshops and counselors have been so valuable to me in developing relationships and expanding my professional network."