An innovative academic program that strategically brings acting and nursing students from the University of Hawaiʻi at Mānoa together is celebrating 10 years of successful collaboration. Developed in 2013, HealthCAST (Health Collaborative Acting Simulation Training) combines students from the Nancy Atmospera-Walch School of Nursing (NAWSON) and the Department of Theatre and Dance to perform simulated healthcare scenes that allow them to sharpen their skill sets.
Over the past decade, more than 100 theatre and dance students have sharpened their acting skills portraying patients and their families while hundreds of nursing students have been able to practice patient interactions from real-life scenarios through HealthCAST.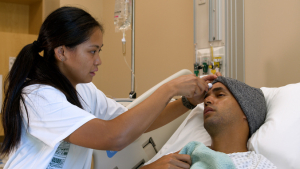 The program recruits theatre and dance students, who are coached to perform as patients or a patient's family member, receiving simulated care from nursing students. These simulated patients provide realistic interactions for healthcare students to practice what they have learned in the classroom and in clinicals.
At the end of each simulation, actors and healthcare students provide feedback on each other's performances, ensuring that everyone has an opportunity to grow in their respective disciplines. In the last decade, hundreds of students from both units have participated in HealthCAST.
"I regularly play someone who is 80 years old with tuberculosis. It's just a really good exercise for me because I get to play him in different ways. Depending on the healthcare students' responses, he can be really grumpy one day or he can be very sympathetic to the people who are trying to help him…it's really stretching me as an actor," said student actor Kalā Müller, an MFA candidate at UH Mānoa.
Collaboration provides critical experience for students
HealthCAST supports more than two dozen simulation scenarios across the undergraduate and graduate nursing curricula, as well as several interprofessional simulations that may include students from medicine, social work, spiritual care, dietetics, athletic training, education and pharmacy. In spring 2023, HealthCAST will support the education of more than 200 nursing students and nearly 200 interprofessional students.
"The collaboration thrives and continues to innovate and deepen the relationship between the sciences and the arts in its pursuit to provide transformative educational experiences," said Lorrie Wong, NAWSON interim associate dean for academic affairs and director of the UH Translational Health Science Simulation Center. Wong was one of the originators of HealthCAST and brought the program to fruition.
"I would say for us, just that sense of collaboration and being able to put our skills into use with a real human and not necessarily a machine all the time. It's amazing," said undergraduate nursing student JT Kim who is on track to graduate this spring.
Related: Real drama benefits nursing students, February 2014

These simulation scenarios take place at NAWSON's UH Translational Health Science Simulation Center, a state-of-the-art simulation center that mirrors equipment and practices currently used by the state's leading medical centers. The center provides a location where students, practicing providers and the entire health care team can gain experience and skills they need to provide safe, quality patient care.
"Simulation is a transformative method of preparing students, and HealthCAST is one of our best tools to shape our students into the kind of healthcare providers that you want taking care of you when you are in need of healthcare," Wong said.
Program expansion
In 2013, the program started with two graduate assistants who served as actors. Today, the program now has five graduate assistants who divide time between teaching and performing with HealthCAST.
Our opportunities to work with other departments within UH need to continue to be explored because the benefits we've had through this collaboration have been priceless
—Lorrie Wong
"HealthCAST is successful because of the support we receive from both NAWSON and the Department of Theatre and Dance, and because of the gift of time and talent given by our actors," said Alex Munro, program manager at HealthCAST. "We could not do it without them."
The program recently supported local and international simulation events, such as the COVID-19 Pandemic Contact Tracing Training.
"Our partnership has provided excellent additional training opportunities in psychological realism for our acting students," said Markus Wessendorf, chair and professor of theatre and dance. "They must portray the kind of emotional depths found in more traditional theatre productions but without the nightly rehearsals and three-hour long performances that are required with plays and musicals."
Current innovations include partnering with makeup students from the theatre department to enhance the realism for old age makeup and wound moulage (art of applying mock injuries). HealthCAST also partners with scenic and props students to enhance the realism of the immersive environments.
Looking ahead
Wong and Munro are excited about the future possibilities for HealthCAST and providing more rewarding experiences for students. Their future plans include expanding support of psych-mental health education especially for adolescent mental health, and support training using telehealth.
"We remain ready to support new innovations and trends coming up in healthcare," added Wong. "Our opportunities to work with other departments within UH need to continue to be explored because the benefits we've had through this collaboration have been priceless."