The Leeward Community College Culinary Arts Program will hold its inaugural Easter Brunch To-Go on April 8, featuring a mouth-watering nine-course meal to enjoy at home. The event looks to build on the success of Leeward's May Day Lūʻau To-Go and Thanksgiving To-Go fundraisers.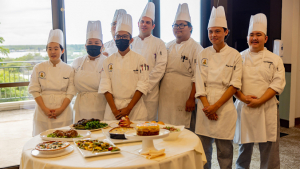 "Although the campus has fully re-opened, due to the success of our previous to-go events, we are continuing these fundraisers to support our culinary students and the program with scholarships, supplies and equipment. And it also gives our students practical experience in large-scale menu and meal preparation," said Abigail Langlas, one of the instructors guiding Easter Brunch To-Go. "We are so grateful to the community for their continued support of the Leeward Culinary Arts Program, and we are all committed to working hard to create a wonderful Easter meal for you!"
During the COVID-19 pandemic, the May Day Lūʻau To-Go sold out and won rave reviews for the delicious Hawaiian feast, as well as the easy and organized pick-up process on campus. Leeward CC's Thanksgiving To-Go proved equally successful.
"I just want to say I'm honored to be in the role of sous chef for this event," said Chandler Lindner, the Leeward CC culinary student overseeing the preparation of 150 Easter meals. "I have learned a lot regarding what it takes to put on an event of this level. Everyone is working hard and putting in a lot of hours, and I am really proud of my classmates for all of their great ideas and hard work to make this event happen. Thank you so much for your support of our education and program!"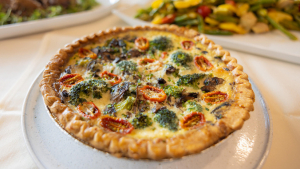 Easter brunch details
Pick-up date: Saturday, April 8, 2023
Pick-up time: 9 a.m.–12 p.m.
Location: Leeward CC parking lot
Menu: Feeds 5–6 people. The meal is packed cold and will need to be reheated. Complete instructions will be provided.
Cost: $325* per meal for 5–6 people (*including Eventbrite fee); $100 is tax-deductible.
Limited quantities are available. All proceeds will go towards student instruction, supplies and equipment. The pre-sale is on Eventbrite through March 26.
Menu
Roast prime rib of beef
Boneless braised leg of lamb natural jus
Apricot glazed ham
Quiche with oven-dried tomato, broccoli, caramelized onion, mushroom and gruyere
Scalloped potatoes with thyme-infused cream, onion, garlic, parmesan and gruyere
Spring pea salad with sugar snap, Chinese and garden peas with bacon and creamy dressing
Easter medley of vegetables with asparagus, haricot vert, tomato, marinated artichoke finished with herb butter
Pani popo—rich butter rolls baked in creamy coconut syrup
Carrot cake cheesecake
If you are not able to purchase tickets for Easter Brunch To-Go, donations to the Leeward CC Culinary Arts Program can be made through UH Foundation.
For questions contact Langlas at alanglas@hawaii.edu or (808) 455-0244.