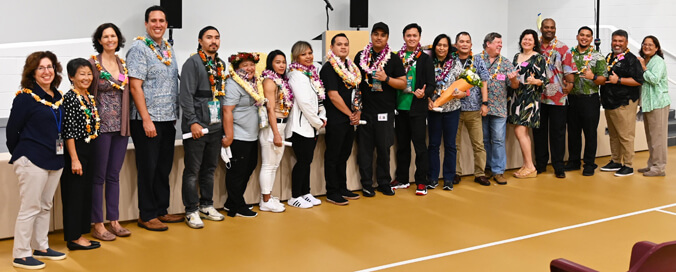 Windward Community College and the Hawaiʻi Department of Health (DOH) recognized 11 graduates of the mental health technician certificate program at a ceremony on March 2. The certificate is designed to expand Hawaiʻi's mental healthcare workforce. All of the graduates are currently employed at the Hawaiʻi State Hospital.
"I am grateful to have had the opportunity to take this course, and I'm looking forward to taking more credits in the future and applying it in my daily life, and especially at work," said graduate Ephraim P. Nabong.
Windward CC's mental health technician certificate program prepares students to work as assistants to mental health professionals in institutional settings, such as the Hawaiʻi State Hospital, and in community-based settings, such as state-operated specialized residential services. Trained mental health technicians are in demand locally at several healthcare organizations, including DOH.
"Congratulations to the graduates who worked hard to complete this comprehensive certificate program," said DOH Director Kenneth S. Fink. "Programs like this grow and provide opportunities to advance careers in our much-needed mental healthcare workforce."
The certificate was created as a result of a collaborative effort spearheaded by State Sen. Jarrett Keohokalole when he brought together DOH and Windward CC administrators to discuss building an educational pathway for the Hawaiʻi State Hospital. It was an opportunity to support the hospital and its employees, as well as provide better care for patients with mental illness in Hawaiʻi.
"Together with the Hawaiʻi State Hospital, we are addressing urgent mental health workforce needs for our state while providing rewarding careers for our students," said Windward CC Chancellor Ardis Eschenberg. "Congratulations graduates!!"
For more information about the certificate, please visit the Windward CC website or contact Career and Transfer Counselor Haʻaheo Pagan at paganj@hawaii.edu.