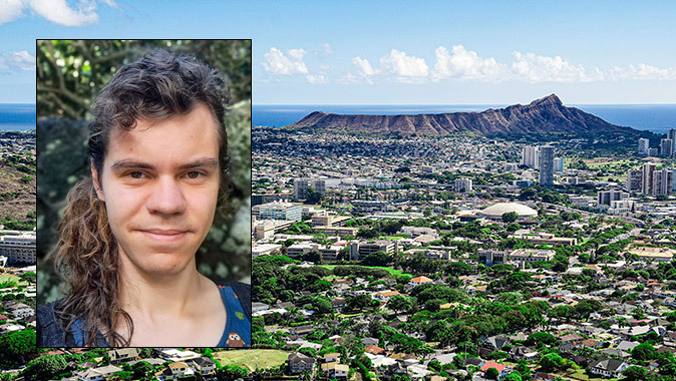 Advocating for democratic justice against authoritarian destruction in Burma is the focus of a project that earned a University of Hawaiʻi at Mānoa PhD student a prestigious international scholarship. Jason Mark Alexander from the Department of Sociology received the 2023–24 Crown Prince Akihito Scholarship, which includes a $30,000 award plus $15,000 annual allowance to cover tuition and one-time round trip airfare from Honolulu to Japan.
Alexander's ethnographic dissertation research in Japan, facilitated by the Crown Prince Akihito Scholarship, will investigate grassroots, diaspora and civil society relationships in the transnational social movement that advocates for democratic justice in Burma. Alexander's goal is to learn more about advocacy mechanisms and help synthesize understandings about ways of establishing visions of peace, democracy and justice across borders.
"Before entering the Department of Sociology at UH Mānoa I was studying history in Fukuoka, where I first learned about Japanese civil society's connections with Southeast Asia since the 1970s," Alexander said. "Since the military coup in February 2021, when I witnessed some of the deep pain felt by residents of Honolulu who are intimately linked with conditions in Burma, I have become more committed to understanding the interwoven relations between Japan, Burma, Hawaiʻi and the U.S., particularly in terms of colonial power and resistance to structures of military, environmental and social violence."
The Crown Prince Akihito Scholarship Foundation was established in 1959 to commemorate the wedding of then Crown Prince Akihito and Crown Princess Michiko. Scholarships are awarded to graduate students who are pursuing a subject area leading to better understanding between the U.S. and Japan.
Alexander earned a BA in history and Japanese from Colgate University, and an MA from Kyushu University's International Master's Program in Japanese Humanities. Alexander is also a student affiliate at the East-West Center.
The Department of Sociology is housed in UH Mānoa's College of Social Sciences.
For stories on past awardees of the Crown Prince Akihito Scholarship, visit UH News.