After five years of planning and preparations for the Moananuiākea Voyage, the Polynesian Voyaging Society (PVS) announced that it will launch the circumnavigation of the Pacific upon arrival in Juneau, Alaska on June 10, 2023. During the four-year expedition, the voyaging canoes Hōkūleʻa, Hikianalia and about 400 crew members will sail an estimated 43,000 nautical miles, visiting 36 countries and archipelagoes, nearly 100 Indigenous territories and more than 300 ports.
The University of Hawaiʻi is one of the partners contributing to PVS' educational mission and connecting classrooms to the Moananuiākea Voyage.
The goal of the voyage is to ignite a movement of 10 million "planetary navigators" by developing young leaders and engaging communities around the world to take part in navigating the Earth toward a healthy, thriving future. The voyage itself is a global educational campaign that will amplify the vital importance of oceans and Indigenous knowledge through education and storytelling shared via a virtual "Third Canoe" called Waʻa Honua, meaning a canoe for the Earth. PVS and its educational partners are creating stories, and lessons for all ages with the goal of inspiring people to care for and make better choices for the Earth.
"This is about not just the oceans, but this is about taking discovery and moving it toward the choices that will take action that we believe is going to help build a future that is good enough for our kids," said Nainoa Thompson, PVS CEO.
Hōkūleʻa's journey to Alaska will begin on April 16. Hōkūleʻa, her escort boat and gear and supplies will be transported to Juneau, Alaska via Matson and Alaska Marine Lines.
"Seeing the jubilation of the amazing crowd as we came into Magic Island for homecoming from the [worldwide voyage in 2017], it became clear to me that the Hōkūleʻa now represents the greatest source of pride—not only for Hawaiians but for all of us for whom Hawaiʻi is home," said UH President David Lassner. "Hōkūleʻa—its history and its accomplishments—brings all of us together like nothing else in Hawaiʻi."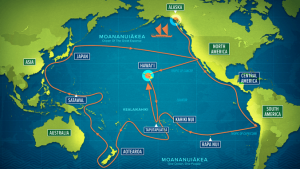 Journey across the Pacific
Hōkūleʻa will first journey to Yakutat, Alaska to begin a pre-voyage "Heritage Sail" along the Southeast region to pay homage to Native Alaskan leaders and the places that played a part in building the longstanding relationship between Hawaiʻi and Alaska.
On June 10, Hōkūleʻa is scheduled to arrive in Juneau and will be welcomed at Auke Bay, the traditional lands of the A'akw Kwáan. The canoe and crew will remain in Juneau for a week of community and educational engagements. On June 15, Hōkūleʻa will depart Juneau after a celebratory ceremony launching the start of the circumnavigation of the Pacific.
"We begin with a 31-year relationship with the native people of southeast Alaska. And I think Alaska is the appropriate place to begin because in the end this is about family—the family of the Earth. And so we go from one family to another, building relationships grounded in respect and trust—a crucial pathway for peace," said Thompson.
Hōkūleʻa's sister canoe Hikianalia will join the voyage in Seattle, Washington in August 2023.
Regional sail plan (subject to change):
June–September 2023: Alaska, British Columbia, Seattle
September–November 2023: West Coast of the United States
January–February 2024: Mexico, Central America, South America
March–December 2024: Polynesia
December 2024–May 2025: Aotearoa
May–March 2026: Melanesia, Micronesia and Palau
March–September 2026: West Pacific, ending in Japan
September–December 2026: Shipping from Japan to Los Angeles then sailing home to

Hawaiʻi

Spring 2027: Tahiti
Additional partners connecting classrooms to the Moananuiākea Voyage include: Hawaiʻi Department of Education, Arizona State University and Virginia Institute of Marine Science, William & Mary. Nakupuna Foundation is designing and maintaining the Waʻa Honua website.