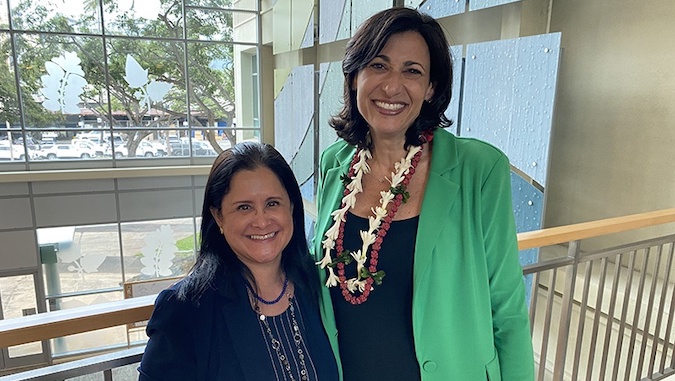 Centers for Disease Control and Prevention (CDC) Director Rochelle Walensky spoke to future doctors and faculty in a special forum at the University of Hawaiʻi at Mānoa John A. Burns School of Medicine (JABSOM) during her visit to Hawaiʻi in March.
Walensky's talk touched on parallels between her role as head of the COVID-19 pandemic response and her first year as an internal medicine resident during the AIDS epidemic in the 1990s; dealing with biases of being a woman in medicine and academia; and lessons learned during her career.
Motivated to fight diseases
As a child, Walensky always knew she wanted to become a physician and serve others, one patient at a time. However, she never anticipated that she would one day hold the title of former chief of the Division of Infectious Diseases at Massachusetts General Hospital, the teaching hospital of Harvard, be a prolific author of papers on the epidemiology of HIV or become the 19th director to lead the CDC.
"Embrace the pursuit" has been Walensky's guiding principle throughout her illustrious career.
Describing her time as a first-year resident during the height of the AIDS epidemic, Walensky said she felt helpless while admitting patients into the hospital that either had HIV or were dying of AIDS.
"All you could really offer was your hand, an ear to listen to and your heart (in place of) where many people had been stigmatized and their families had left them," she said.
But that all changed by the end of December 1995, when a cocktail of antiretroviral drugs was first FDA-approved to combat the AIDS epidemic.
"It was a time where all of a sudden, one day people did not have hope and the next day you could give them some potential for life expectancy—and it was really remarkable!" Walensky said.
Motivated and energized by how quickly science was changing, she "rushed toward the disease where very little was known, where people had been stigmatized and where the cost of antiretroviral therapy, at $15,000 a year, was too expensive for the populations that were contracting the disease."
"Those patients were the ones that shaped my career, ignited my passion for public health and ignited my passion for giving a voice to those that didn't really have a voice and for fighting diseases and disparities. And that is why I went into the field of infectious diseases," Walensky said.
She acknowledged how tough the past few years have been on everyone due to the Coronavirus pandemic, especially on healthcare workers, and that the U.S. is in a better place since it started.
"We have this incredible opportunity (in healthcare), this incredible gift that we get to do the work that we do and give back to people. Embrace that gift everyday," Walensky said. "Have some grace and take the time to take care of yourself so that you can give back in full force."
Inspired medical student
As a second-year medical student finding himself pulled by many different interests including clinical care, health policy and public health, Anson Lee relished the fact that even Walensky did not go through medical school knowing the entire trajectory of her career.
He was excited to be in the audience to hear from the director of the CDC—a rare occasion for any medical school and a gem for JABSOM.
"For her to come to the UH medical school, I think it's pretty crucial especially because we're in the middle of the Pacific, there's various patient populations here that you might not see on the continental U.S. and so the fact that she's willing to speak with us here and trying to get a better perspective on the challenges that we're facing here in Hawaiʻi—it's great," Lee said.
Read more on Walensky's talk at JABSOM website.