Scientists, researchers and state leaders say Hawaiʻi's vulnerable coastal communities must plan for mitigating and adapting to the impacts of sea-level rise, groundwater inundation and coastal erosion due to climate change. In an effort to begin tackling that monumental task, the state legislature, via the Office of Planning and Sustainable Development, awarded the University of Hawaiʻi Community Design Center (UHCDC) and its project partners $350,000 to develop a framework for a future Waikīkī resilience and sea-level rise adaptation plan.
The study, "Waikīkī Resilience & SLR Adaptation Project (WRAP)," was developed after a year of conversations between decision makers, UH experts, agencies and stakeholders—under the leadership of State Sen. Sharon Moriwaki, who convened and facilitated the working group. Deliverables for this project are due by the end of May 2024.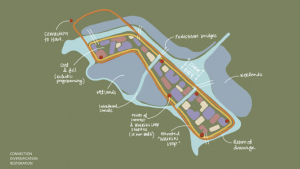 The UHCDC project team is led by School of Architecture Professor Judith Stilgenbauer, a landscape architect and urban designer who serves as principal investigator for WRAP, and UHCDC Director Cathi Ho Schar, who is a co-investigator.
"WRAP provides a unique opportunity for an interdisciplinary team of UH faculty, staff and students to lead and use their expertise in developing innovative and meaningful urban solutions for a resilient future," said Stilgenbauer.
Interdisciplinary collaboration
UHCDC is partnering with UH Sea Grant College Program (Hawaiʻi Sea Grant) for this project. Hawaiʻi Sea Grant is represented by Extension Agent Dolan Eversole, a coastal geologist, coastal processes specialist and Waikīkī Beach Management Coordinator.
"Stakeholders in Waikīkī and throughout the state have expressed strong interest in the development of plans and policies that identify adaptation pathways and options for planned resilience to climate change," said Eversole. "The WRAP will do just that by providing a framework for adaptation that is sensitive to various timeframes for adaptation and development of planning, policy and engineering design options for Waikīkī."
The team includes faculty, professional project design research staff and student project assistants from the School of Architecture's landscape architecture, environmental design and architecture programs. UHCDC's project work provides applied learning, leadership and employment opportunities for students and new graduates, connecting their education to projects that serve Hawaiʻi's communities.
"Comprehensive and innovative near- and long-term adaptation and resilience strategies, plans, and actions are needed to safeguard the state's critical assets in low-lying coastal areas," said Ho Schar. "Any such effective strategy must be acceptable and attuned to those who live and work in affected communities."
Promoting student learning
WRAP integrates Stilgenbauer's spring 2023 ARCH 743 Urban Design studio course, in which teams of architecture and landscape architecture students investigate speculative, long-term urban design strategies for sea-level rise adaptation in Waikīkī.
"This course integration offers students an opportunity to be part of a real-world UHCDC design research project, learn from experts and stakeholders, and gain invaluable public-interest-design and service experience," said Stilgenbauer.