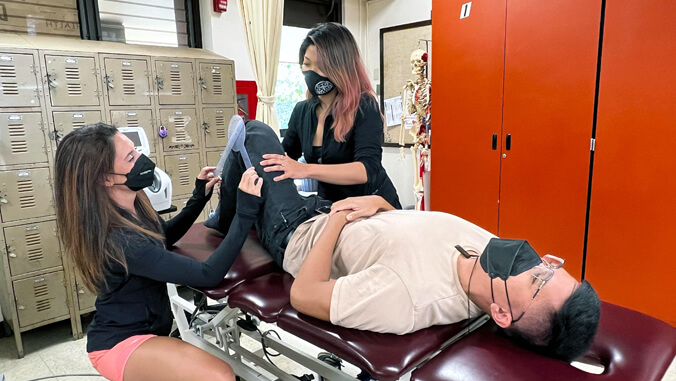 The Physical Therapist Assistant (PTA) program at Kapiʻolani Community College—the only associate's degree program in the state of Hawaiʻi—recorded a big win in October. Carter Lam, a 2022 graduate of the program, scored an 800 (the highest possible score) on the National Physical Therapy Exam—an achievement attained by less than 1% of all test takers nationwide and a first for Hawaiʻi.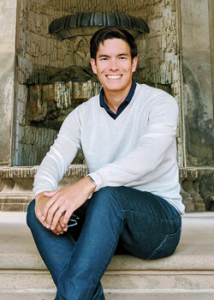 "The biggest reflection on our program is our students," said Bennett Zazzera, director of the PTA program. "We're really lucky in this program that we get really outstanding students. Our program is the way it is because of them, not because of anything else."
Lam, who received the 2022 Clinical Excellence Award from Kapiʻolani CC, spent one of his clinical rotations at Straub Medical Center in Honolulu. After graduating from Kapiʻolani CC and passing his licensure exam, he was hired as the first physical therapy assistant at Straub.
"My success is really because of how well run the program is," Lam said. "The way they teach and the way they schedule classes, it just worked out really well for me. And I think it was very enjoyable to go through the program with my classmates."
The program has impressive statistics: 94% of students (2018–21) graduated, 96.2% (2019–20) passed the licensure exam, and 100% (2018–20) are employed as a physical therapy assistant within a year of graduation.
Strong foundation
Kapiʻolani CC utilizes a 12-month hybrid program to educate a cohort of about 20 physical therapy assistant students each year. Students are required to complete about 14 weeks of clinical rotations (one four-week rotation in the spring semester and two five-week programs in the summer) with community partners around Hawaiʻi.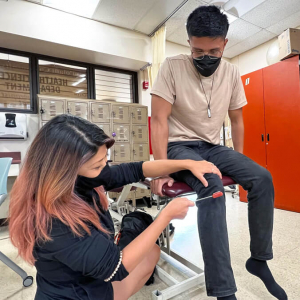 "It's a strong academic foundation," said Michelle Dela Cruz, director of clinical education. "We have many of the same classes they teach in a doctorate degree program with the same textbooks, same information. It's a strong clinical skills program. The student comes out confident that they're ready to work right after they pass their licensure exam."
Kapiʻolani CC has developed community partnerships with clinics and hospitals around the state, including Hawaiʻi Island, Maui, Kauaʻi and Lānaʻi. The school is in the process of creating a partnership with a clinic in Molokaʻi. Eventually, Kapiʻolani CC students will be able to receive hands-on training opportunities on six of the seven populated islands in Hawaiʻi.
"We really try to serve our local community," said Zazzera. "Almost all of our students are from Hawaiʻi. We want to produce PTAs who are going to be here and going to serve our local population, and also serve the local clinics that need the help."
—By Kim Baxter