Students from schools across multiple islands created the Pledge To Our Keiki, a commitment to respect and care for the places that they call home so future generations can continue to enjoy all that Hawaiʻi is.
The Institute for Sustainability and Resilience (ISR) at the University of Hawaiʻi at Mānoa has partnered with Kanu Hawaiʻi to promote these shared values by creating the landing page for Pledge To Our Keiki. UH students, faculty and staff are encouraged to sign the pledge to lend their voices and support to protect Hawaiʻi for generations to come.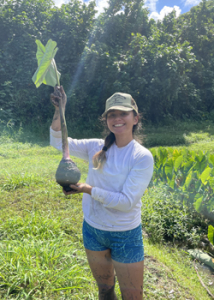 "We want to encourage our UH Mānoa community to give back through volunteerism during the month of April in celebration of Earth Day," said Makena Coffman, director of ISR. "This is also an important opportunity to raise awareness about the Pledge to our Keiki—which is about making a commitment to sustainability for Hawaiʻi."
Pledge To Our Keiki is part of an initiative to celebrate Earth Month, with events scheduled throughout April. Earth Day, on April 22, will culminate with leaders across Hawaiʻi signing the pledge at the Capitol.
The pledge provides participants with volunteer opportunities across the islands with events such as beach cleanups, loʻi workdays, mentorship programs and more.
ISR was created to share interdisciplinary education, research and outreach related to climate change, environmental sustainability and community resilience in Hawaiʻi and abroad.