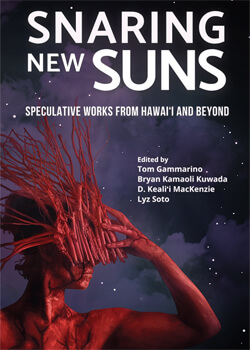 Four writers tasked with going beyond science fiction and fantasy will read from their works published in a special issue of Bamboo Ridge titled "Snaring New Suns: Speculative Works from Hawaiʻi and Beyond" at Windward Community College. The 50th Anniversary Out Loud in the Library! event will be held on Thursday, April 13, 5–6:30 p.m. in Hale Aʻo, the Hawaiian studies building.
"Snaring New Suns: Speculative Works from Hawaiʻi and Beyond" is edited by Tom Gammarino, University of Hawaiʻi at Mānoa Assistant Professor Bryan Kamaoli Kuwada, D. Kealiʻi MacKenzie and Lyz Soto. This issue from Bamboo Ridge challenges writers to create speculative narratives that "imagine otherwise." The result is a collection of pieces from 48 established and emerging authors and artists who venture into a new realm of speculative work.
Thoughtfully curated and arranged to amplify each piece within a larger reading experience, the anthology experiments with form and mixes genres of the supernatural, alternate reality, climate fiction and more, including art, graphic stories, nonfiction and a stage play.
About the writers
Donald Carreira Ching, Leeward CC English instructor
Born and raised in Kahaluʻu, Oʻahu, Ching's poetry and fiction have appeared in publications such as Rio Grande Review, NonBinary Review and Every Day Fiction. In 2015, his debut novel, Between Sky and Sea: A Family's Struggle, was published by Bamboo Ridge Press. In 2018, he received the Elliot Cades Award for Literature–Emerging Writer.
Timothy Dyke
Dyke is a writer and teacher who lives in Makiki with parrots. His published work includes the chapbook, Awkward Hugger, the prose poem collection, Atoms of Muses, and a book length poem called MAGA, all with Tinfish Press.
Misty-Lynn Sanico
Sanico is a Kanaka ʻŌiwi (Native Hawaiian) writer living in Honolulu. Her work has appeared in Bamboo Ridge, Abstract Magazine, the Honolulu Star-Advertiser and more.
Joseph Stanton, professor emeritus of art history and American studies at UH Mānoa
Stanton has lived on Oʻahu since 1972. His books of poems include Prevailing Winds, Moving Pictures, Things Seen, Imaginary Museum: Poems on Art, A Field Guide to the Wildlife of Suburban Oahu, Cardinal Points, and What the Kite Thinks: A Linked Poem (co-authored with Makoto Ōoka, Wing Tek Lum and Jean Toyama). His poems have appeared in Bamboo Ridge, Poetry, Harvard Review, New Letters, Antioch Review, Poetry East, New York Quarterly and many other magazines.
For more information about the reading, contact Susan St. John, assistant professor of language arts and Out Loud in the Library! coordinator at (808) 236-9226 or susankcl@hawaii.edu.