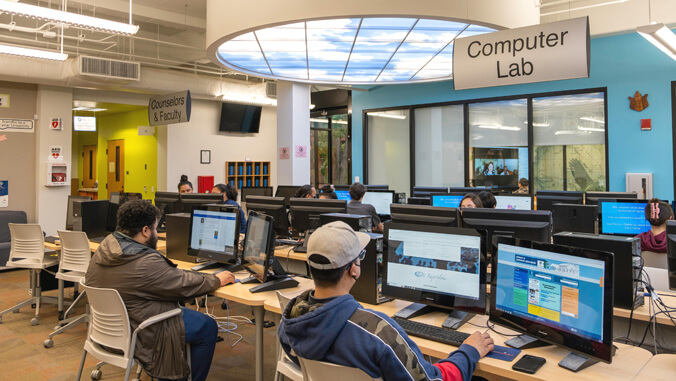 Kapiʻolani Community College was named a National Center of Academic Excellence in Cyber Defense (CAE-CD) by the National Security Agency (NSA) and the Department of Homeland Security (DHS). The CAE-CD designation is awarded to regionally accredited academic institutions that offer high-quality cybersecurity-related degrees and certificates.
"Kapiʻolani CC is now part of an elite group, recognized for superior standards and abilities to educate our future cyber workforce. U.S. national and economic security depends on cybersecurity expertise in the workforce—not only at the NSA but also in all industries across our country," said Kapiʻolani CC CAE-CD lead and Information Technology (IT) faculty, David Stevens. "As educators of the future cyber workforce, Kapiʻolani CC is at the forefront of keeping our nation safe."
The designation was awarded to the Kapiʻolani CC campus as a whole, with the IT program's Certificate of Competence in Information Security and Assurance being the qualifying certification.
"It is an incredible honor for our college to be recognized with the CAE-CD designation. We are grateful and excited," said Kapiʻolani CC Chancellor Misaki Takabayashi. "Our IT faculty, staff and students have worked collaboratively to synergize clear learning outcomes in robust curricula taught by high-quality faculty to create an environment for academic excellence in cybersecurity. The tremendous impact that our graduates will have in safeguarding our communities against cyber threats will be a true testament to our CAE-CD designation."
The CAE-CD designation is based on a combination of elements related to the institution, focused on outputs for determining academic achievement. As a recognized institution, Kapiʻolani CC has demonstrated that it engages in significant community involvement, embeds cybersecurity awareness in classes throughout the campus, encourages faculty professional development, integrates cybersecurity practices within the institution and prepares students to meet the growing need for professionals with cybersecurity skills.
"Through the guidance of the NSA and DHS to become a CAE-CD institution, our cybersecurity learning pathway incorporates real-life scenarios, critical-thinking and problem-solving exercises, hands-on labs, industry certificate preparation and cooperative decision-making activities, resulting in fully prepared cybersecurity professionals," said Kapiʻolani CC IT Director Dale Nakasone. "The CAE designation will benefit graduates from Kapiʻolani CC who will have the potential to become highly sought after as candidates for high-paying industry careers."
Other UH campuses that have received a CAE designation include UH Maui College (CAE-CD), Leeward CC (CAE-CD), UH West Oʻahu (CAE-CD) and UH Mānoa (CAE-R).
Related UH News stories: