A University of Hawaiʻi Press publication detailing the story of the internment of Japanese Americans in the islands was recognized as this year's best book in any field of history written by a Hawaiʻi resident. The Kenneth W. Baldridge Prize was presented to respected writer and filmmaker Tom Coffman for his book, Inclusion: How Hawaiʻi Protected Japanese Americans from Mass Internment, Transformed Itself, and Changed America.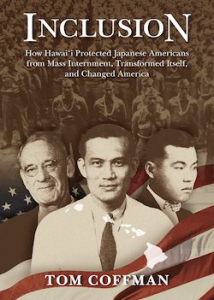 The prize has been awarded since 1993, honoring the life and work of its namesake, Kenneth W. Baldridge (1926–2021), a longtime history professor at Brigham Young University (BYU)–Hawaiʻi, and was announced by the Hawaiʻi chapter of the Phi Alpha Theta honor society at its annual regional conference on April 1.
As described in the statement accompanying the award, Inclusion is "a gripping read of a period and series of events that are still discussed in the politics and history of Hawaiʻi today. It is based on extensive research into primary documents and is exhaustive in its attention to detail in narrating the twists and turns in the story of the internment (and not) of Japanese Americans in the islands."
In his book, Coffman focuses on a group of individuals called the Council for Interracial Unity, among which were the men shown on the book's cover: Hung Wai Ching, Shigeo Yoshida and Charles Hemenway. Hemenway, legacy member of the UH Board of Regents after whom UH Mānoa's Hemenway Hall is named, was influential in advocating for Japanese Americans during WWII.
Previous authors who received the Baldridge Prize for their UH Press-published titles include UH Mānoa professors Ned Bertz, Davianna McGregor and Leonard Andaya, and BYU—Hawaiʻi professor Isaiah Walker.