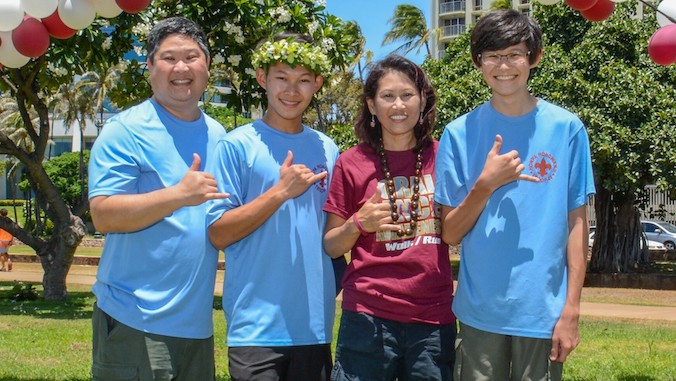 Joanne Ebesu felt a cold sore on her tongue. As most do, she ignored it and expected it to clear up on its own. After two months of dealing with the discomfort, she mentioned it to her dentist at her next checkup. Her dentist recommended a biopsy from an oral surgeon.
"He called me with the unfortunate results the day after my biopsy. It was stage II oral cancer," said Ebesu, an alumna and former biomedical researcher of the University of Hawaiʻi at Mānoa John A. Burns School of Medicine (JABSOM). Ebesu is known for her work with the late Yoshitsugi Hokama, professor and scientist at JABSOM, in the development of the first field-based rapid detection test kit for ciguatera fish poisoning—an illness caused by eating fish that contain toxins.
National Oral Cancer Awareness Month
Oral and oropharynx cancers include areas of the mouth and the back of the throat. This April, in observance of National Oral Cancer Awareness Month, the UH Cancer Center joins organizations across the nation to underscore the importance of early detection, and to make oral screenings a part of your dental exam routine.
In the U.S., there are, on average, 54,000 new cases of oral cancers, accounting for about 2.8% of all new cancer cases. According to the Hawaiʻi Tumor Registry operated by the UH Cancer Center, incidence rates in Hawaiʻi were significantly higher than in the U.S. overall and were higher among Hawaiʻi women than U.S. women. Risk factors include the use of tobacco and betel (Areca) nut, alcohol consumption and oral human papillomavirus (HPV) infection.
"Oral HPV has become an increasingly important risk factor specifically for oropharyngeal cancers and is a causal agent in approximately 60–70% of these tumors," said Brenda Hernandez, a UH Cancer Center researcher.
Clinical trial helped with cancer recovery
Within weeks of her diagnosis, Ebesu underwent surgery to remove the tumor and surrounding healthy tissue from under her tongue. The surgeon then used a skin graft taken from her arm to reconstruct the area that was removed.
While recovering from surgery and subsequent radiation, Ebesu spent much time doing research on the Oral Cancer Foundation website and at the UH Cancer Center, which led her to participate in a clinical trial that helped cancer patients and survivors recover through exercise.
"Before my diagnosis, I wasn't really aware of the important cancer research being done at the UH Cancer Center," she said.
Organizing the
Hawaiʻi

Oral Cancer Walk

Through her research, she learned about the importance of screenings to find cancer before symptoms develop. As a result, in 2019, Ebesu organized the Hawaiʻi Oral Cancer Walk to bring awareness to the disease and raise money for the Oral Cancer Foundation.

Now in its fourth year, the 5K walk will be held on September 23 at the UH Cancer Center in Kakaʻako. The event will include music, games and other family fun activities. A key part of the event is providing education and free oral cancer screenings to the public and event participants. For more information and to register, visit the event website.