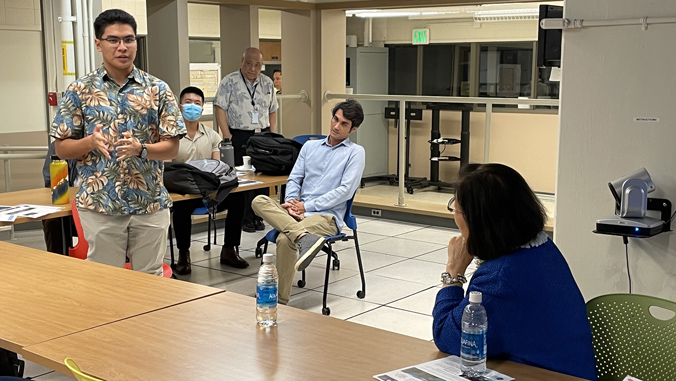 U.S. Sen. and University of Hawaiʻi at Mānoa alumna Mazie Hirono learned first hand about the impact a cybersecurity internship is having on UH students who have flourished in the few years the program has been running.
Hirono visited the UH Mānoa campus April 12, and met with students and faculty who are part of the U.S. Naval Information Warfare Center (NIWC) Cybersecurity Internship program. The NIWC program is a one-semester paid internship that includes 240 hours of cybersecurity instruction and research. Program partners develop a list of research, engineering, information technology, network and/or business initiatives, and then students work with UH faculty and Navy partners to perform either individual or team-based research on one of the research topics identified.
"This is a really important program to prepare students to be in the cybersecurity area," Hirono said. "I know, as a member of the Armed Services Committee, how critical people with this kind of knowledge are to protect us from whatever designs—that mainly China right now—is developing. So we need a lot of people in cybersecurity and I'm really glad that we're doing a lot of it here in Hawaiʻi, at the University of Hawaiʻi."
Students gain experience with experts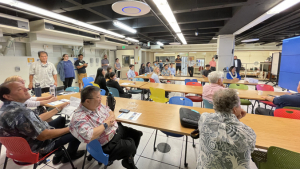 Sienne Rodwell is a junior computer science student at UH Mānoa and shared with Hirono about her project working on data sharing within the Department of Defense cyber operations.
"I've really enjoyed it. It's been an awesome learning experience," Rodwell said. "This has been my first ever research paper. It's really awesome that you get to do it, basically hand-in-hand, with some people who really know their stuff."
This internship isn't just for upperclassmen. Aris Carlos is a freshman computer science major at UH Mānoa and a 2022 graduate of Moanalua High School. Carlos talked with Hirono about his project on quantum computers.
During Hirono's visit to UH Mānoa, she also learned about UH Mānoa's Information and Computer Sciences Department from Chair Scott Robertson, and Hawaiʻi Data Science Institute from Co-Directors Gwen Jacobs and Jason Leigh.
Internship's beginnings
David Stevens, a faculty member from Kapiʻolani Community College's Information Technology Program, created the annual NIWC internship in 2020, which has since expanded systemwide. On most UH campuses, the internship counts toward an IT student's internship requirements for their degree/certificate.
Stevens was motivated to establish the program from his own experience after his service in the Marines. He said that when he walked off base, he was on his own and found it challenging to adjust to civilian life. Then he attended college, and after earning his degree, he found that transitioning from academia to the workforce was much the same as exiting the military.
"Our students deserve greater opportunities to succeed after they graduate," Stevens said. "As teachers, we can't control the cost of books, fees, tuition, food, transportation or housing. But we can create a pathway from university life into a high-paying job in a student's field of study. Programs like the NIWC Cybersecurity Internship build on students' knowledge and provide experiences to help them begin their careers."
Former intern Steven Camara graduated from Kapiʻolani and Leeward CCs, and now works for the City and County of Honolulu Department of Information Technology.
"As students, we learn what to look for as potential threats, how to research defensive solution topics, and most importantly the recipe to transition into assets within the cyber community," Camara said. "I can't begin to emphasize how important completing the NIWC internship has been in the journey to become a cybersecurity service provider. Being mentored to become real-world-ready, was the fulcrum of success."
Apply for the internship program
The deadline to apply for the fall 2023 NIWC internship is April 15. For more details on how to apply, visit this link (must have a hawaii.edu email address).