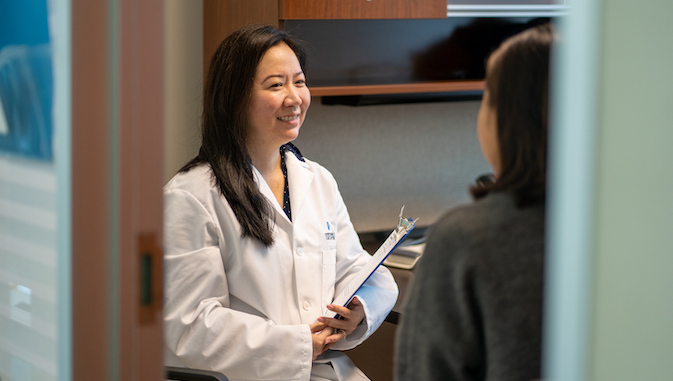 During the COVID-19 pandemic, Janice Yonamine, like many, was working from home and found her 15-year career as a state auditor was no longer fulfilling—she needed to make a change.
Through her job search, she discovered a position for a clinical trials support specialist at the University of Hawaiʻi Cancer Center. Although she did not have clinical research or medical experience, Yonamine decided to take a chance—she applied and got the job.
To train and supplement her transition into the position, her hiring manager recommended she register for the inaugural Clinical Research Professional Certificate Program (PDF), which provides foundational clinical trial knowledge, including oncology clinical trial coordination, basic statistical and epidemiologic methods, ethical and regulatory aspects of human subjects research and protocol development. Yonamine was part of the first cohort of this program in 2020.
The field of clinical research is thriving in Hawaiʻi. In fact, upon the successful completion of the three-month certificate program, students enter one of the fastest growing fields in the U.S. (currently 14% annually).
"The certificate program is the perfect starting point for anyone, whether you already have some background or experience, or if you're brand new to the field," said Yonamine. "Clinical research is so dynamic and you will never go stagnant. There's always something new to learn and the science and research is always evolving and advancing. It is an exciting and meaningful career and you will never stop learning."
Yonamine was promoted to a clinical research associate (CRA) in 2022 and served as a course instructor for the program last fall, teaching data management and cooperative group registration. She now sees patients at The Queen's Medical Center, the Cancer Center of Hawaii and Hawaiʻi Cancer Care.
The certificate program is designed to train those interested in becoming a CRA at the UH Cancer Center, its affiliated hospitals or at other academic centers in support of clinical trials.
Enroll in the program
The program is offered online by the UH Mānoa Outreach College. The accelerated three-month program runs from August 23 to November 15, 2023. The deadline to apply is August 21, 2023.
Learn more and register for the Clinical Research Professional Certificate Program on the Outreach College website.