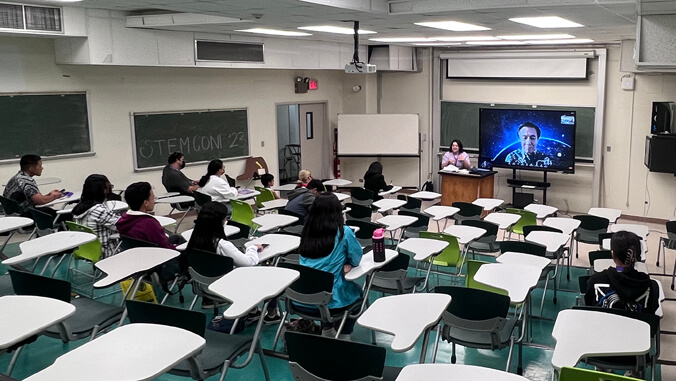 A new partnership creating opportunities for students in Hawaiʻi and Guam was on display at an international conference hosted by the University of Guam.
University of Hawaiʻi at Mānoa Department of Mechanical Engineering Professor Marvin Young provided an overview to more than 30 students about the recently-established collaboration between UH Mānoa, the University of Guam and and the Pearl Harbor Naval Shipyard (PHNSY) and highlighted plans to include STEM pathways as part of the collaboration.
The partnership was created to address a significant mechanical engineering shortfall at maintenance facilities in Guam and Hawaiʻi. The collaboration provides a pathway for University of Guam students who successfully complete their first two years in engineering in Guam to transfer to UH Mānoa and enroll in the mechanical engineering program. The pathway also contains several opportunities for students to participate in co-op programs and gain valuable engineering shipyard specific experience while a student at UH Mānoa. Upon graduation, these students can be hired by PHNSY, and after 2–3 years gaining shipyard knowledge/experience, either remain at PHNSY or transfer back home to the Guam maintenance facility.
For many University of Guam students, this is a very attractive opportunity to return home to a challenging and relatively high paying career. PHNSY benefits by creating a stable engineering workforce that is composed of many Hawaiʻi and Guam engineers. The inclusion of STEM into the collaboration pathway significantly increases the success of the collaboration.
"It does this by moving the maintenance facilities employment pathways upstream to the K–12 levels," Young said. "By developing STEM-related programs for Hawaiʻi and Guam K–12 students, the pipeline of candidates that may attend UH Mānoa and University of Guam majoring in engineering would be significantly increased. By incorporating early introduction to the Guam and Hawaiʻi maintenance facilities, we significantly increase the interest in engineering by providing a pathway to a challenging and rewarding career at these maintenance facilities."
According to Young, consequently, stable shipyard engineering workforces will be created at Guam and Hawaiʻi, which ultimately results in supporting Navy readiness at these forward maintenance facilities. Young and his team will be developing strategies to partner with established STEM programs to introduce the shipyard pathway to K–12 students, as well as providing additional resources and assistance to help develop interest in STEM careers.