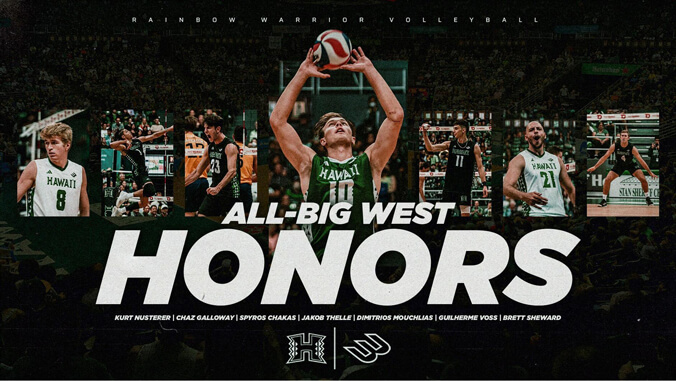 The University of Hawaiʻi at Mānoa men's volleyball team placed a record six members on the All-Big West first team and another on the All-Freshman Team.
Six of the team's seven starters made the first team—setter Jakob Thelle, outside hitters Spyros Chakas and Chaz Galloway, opposite Dimitrios Mouchlias, middle blocker Guilherme Voss and libero Brett Sheward. Middle blocker Kurt Nusterer was named to the All-Freshman team.
Regular season co-champion UH led all Big West teams with the six first-team selections among the 14 honorees while co-champion Long Beach State had four. The individual awards for Player of the Year, Freshman of the Year and Coach of the Year will be announced on April 25.
Among UH's selections, Thelle, Chakas and Voss received first-team honors last season while Mouchlias was honorable mention. Galloway and Sheward are first-time honorees.