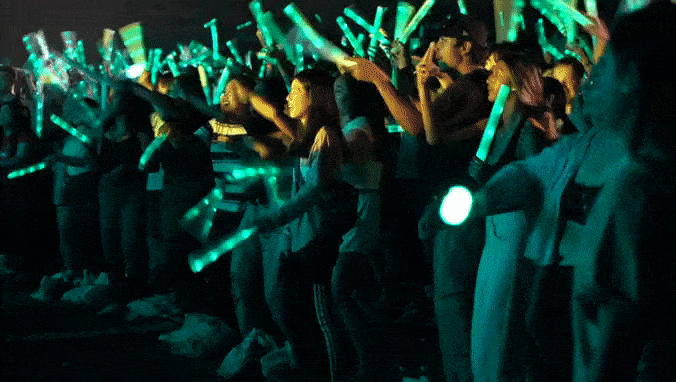 The energy and volume were pumped up to the max at the annual music event, Aloha Bash, held April 21, at the University of Hawaiʻi at Mānoa. Hosted by the Campus Center Board Activities Council (CCBAC), hundreds gathered at the Andrews Amphitheatre to hear an exclusive live performance by pop singer, MAX.
"The turnout for Aloha Bash was awesome!" said CCBAC chairwoman Sophia Lopez. "We had a national pop artist join us this year, a first in CCBAC history, as well as amazing openers that people were looking forward to, so we were really excited to see so many people come together to enjoy such great music. I'm so glad people came out."
The show opened with the artist JOBY! and his four-piece band The Currents, as well as the band Ragamuffs, whose lead singer Hailey Fines is a graduate from UH Mānoa's Shidler College of Business.
Supporting act Ryan Siegel of Party Pupils, a duo which consists of producer Siegel and MAX, played future funk remixes of popular hits and original music, getting the crowd excited for headliner, MAX. The pop star sang a selection of his viral hits, such as "Blueberry Eyes featuring SUGA of BTS" and "Lights Down Low," and gave attendees a chance to hear one of his unreleased songs, "Strings." MAX will release his next full studio album in fall 2023.
Although the opportunity to see MAX live was huge for many UH Mānoa students, student media organizations Ka Leo O Hawaiʻi and Mānoa Now got up close and personal with the pop singer in a personal interview and chance to capture close-up footage of his performance.
"I really enjoyed interviewing MAX," said Lili Hurd, a student in Ka Leo. "He was really down to earth and cared a lot about his craft and his fans. He was passionate about supporting the students at UH Mānoa and just wanted to create a magical performance."
Lopez extends her thanks to BAMP Project; KTUH; 102.7 Da Bomb; Micah Banks from Power; Sodexo; student media organizations Ka Leo and Mānoa Now; the numerous volunteers; and everyone at Campus Center and Student Life & Development for the successful event.
Additional supporters include the Campus Center Board and CCBAC advisors Joshua Ramos, Ashley Nguyen and Sarah Yap. The event was sponsored by Coca-Cola Hawaiʻi and Raising Cane's.
"I'm so grateful to everyone who helped put this together because it was such a team effort," said Lopez. "This wouldn't have been possible without them, and I hope we can have more events like these and invite more artists like MAX in the future."