The community is invited to celebrate the life and legacy of legendary educator and cultural icon Edith Kanakaʻole on Saturday, May 6, 2023 at the University of Hawaiʻi at Hilo. Kanakaʻole worked as a teacher at Hawaiʻi Community College from 1971 to 1974 and at UH Hilo from 1974 to 1979. At both schools, she created courses and seminars on subjects including Hawaiian language, ethnobotany, Polynesian history, genealogy and Hawaiian chant and mythology.
"It was famously said of my Grandmother that she never turned down anyone who asked her to teach. She always said, 'yes' not only out of the goodness of her heart but because she felt an urgency to pass down this information and these traditions before they fade away and are forgotten," said Huihui Kanahele-Mossman, Edith Kanakaʻole Foundation executive director.
On March 27, the U.S. Mint (Mint) released into circulation American Women Quarters™ honoring the award-winning composer. Kanakaʻole is one of five American women being honored in new quarters in 2023 as part of the American Women Quarters™ Program. "He Kaʻao No Aunty Edith Kanakaʻole" attendees will be able to receive a Edith Kanakaʻole quarter.
The program starts at 10:30 a.m. in the Performing Arts Center for kīpaepae (welcoming ceremony) and hoʻokupu (ceremonial presentation of gifts and tributes). At 11:30 a.m., the event moves to the Edith Kanakaʻole Hall for various activities including:
Edith's voice: video loop of "Aunty Edith"
Mint educational resources and coin board distribution
Sharing of stories of Aunty Edith's impact on the world and Indigenous cultures
Sharing of stories among

Hawaiʻi

CC ʻohana
Sharing of stories among UH Hilo ʻohana
Sharing of stories among

Kanakaʻole

ʻohana
Educational crafts and activities
In addition, a hoʻolauleʻa (celebration) featuring various musicians and performers will be held fronting the parking lot. A livestream of the event will be available.
"Aunty Edith, as she was affectionately known, created an incredible legacy across the University of Hawaiʻi," said UH President David Lassner. "We were truly blessed to have her so generously share her knowledge and wisdom with all who were interested and committed."
The Edith
Kanakaʻole

Quarter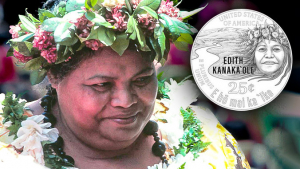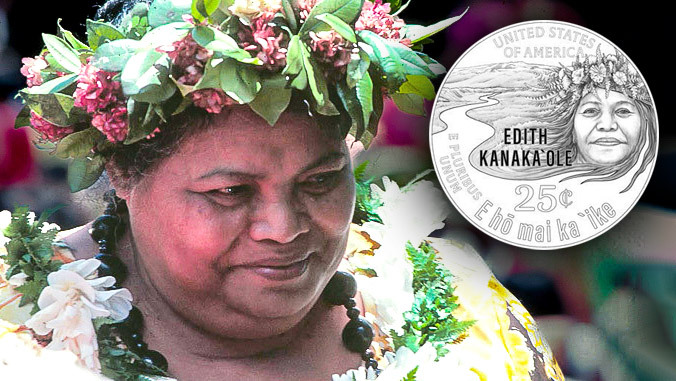 The coin features a depiction of Edith Kanakaʻole, with her hair and lei poʻo (head lei) morphing into the elements of a Hawaiian landscape, symbolizing Kanakaʻole's life's work of preserving the natural land and traditional Hawaiian culture. The commemorative quarter also bears an inscription in ʻōlelo Hawaiʻi (Hawaiian language), "e hō mai ka ʻike" or "granting the wisdom." The phrase comes from a well-known oli (chant) Kanakaʻole composed that asks for knowledge to be bestowed upon the chanter.
Kanakaʻole joins four other honorees in 2023 quarters including the first African American and first Native American woman licensed pilot Bessie Coleman; civil rights leader, reformer, former first lady and author Eleanor Roosevelt; Mexican American activist, journalist, and educator Jovita Idar; and America's first prima ballerina who broke barriers as a Native American Maria Tallchief.
"It is an honor to celebrate the life and legacy of Edith Kanakaʻole at the University of Hawaiʻi at Hilo," said Kristie McNally, Deputy Director of the United States Mint. "Edith Kanakaʻole—the first Indigenous Hawaiian woman to be featured on a United States quarter—worked diligently to preserve Native Hawaiian culture, teach environmental conservation, and serve the Hawaiian community at large. We are proud to recognize her accomplishments through the American Women Quarters™ Program."
The American Women Quarters™ is a four-year program (2022–25) to honor the accomplishments and contributions made by women who have shaped our Nation's history and helped pave the way for generations to follow. Each year, the Secretary of the Treasury selects the honorees following consultation with the Smithsonian American Women's History Museum, the National Women's History Museum and the Congressional Bipartisan Women's Caucus. In 2021, the public was invited to submit recommendations for potential honorees through a web portal established by the National Women's History Museum.
"At a time when Native Hawaiians were discouraged from learning their language and cultural practices, Edith Kanakaʻole persisted in teaching and innovating upon her traditional knowledge base," said Halena Kapuni-Reynolds, associate curator for Native Hawaiian History and Culture at the National Museum of the American Indian. "Her work laid the foundation for developing Hawaiian curricula that thousands continue to benefit from today. The Smithsonian works with her story in both telling the lesser known history about the U.S. takeover of Hawaiʻi and its aftermath to further understandings of Native Hawaiian and U.S. history."
The Kanakaʻole family recently established the Hale Kanakaʻole Fund with the UH Foundation. The fund recognizes Kanakaʻole's numerous contributions toward the promotion of Native Hawaiians' educational pursuits, and provides support to students enrolled at any campus within the UH System with a preference for students of Native Hawaiian ancestry. Donations to the Hale Kanakaʻole Fund can be made via the UH Foundation.