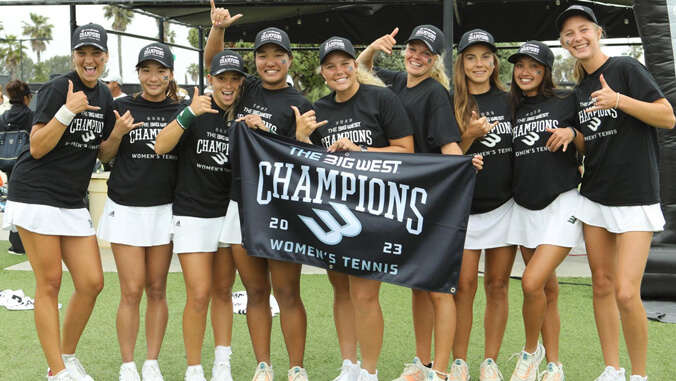 The top-seeded University of Hawaiʻi at Mānoa women's tennis team defeated California Polytechnic State University, 4-2 to capture the 2023 Big West Championship. This is the first time that UH has won both the Big West regular season and tournament titles in the same season. With the win, UH receives the league's automatic bid into the NCAA Championship tournament.
Cal Poly edged out UH to win the doubles point and take an early 1-0 lead. However in singles, the Rainbow Wahine battled back, quickly taking a 3-1 lead. UH's No. 4 Klara Novakova cruised past Cal Poly's Delanie Dunkle, 6-2, 6-2 and No. 3 Satsuki Takamura knocked off Cal Poly's Peyton Dunkle by the same score. Cal Poly then recorded its only singles win, but UH's No. 1 Ana Vilcek clinched the match with a 6-4, 1-6, 6-2 win to propel UH to the tourney crown.
This is UH's third conference tournament title and NCAA team appearance. The Rainbow Wahine won the Western Athletic Conference in 2012 and the Big West in 2018.
The Rainbow Wahine will learn its draw for the NCAA tournament on Monday, May 1 at 12 p.m. HST.
For more, visit hawaiiathletics.com.