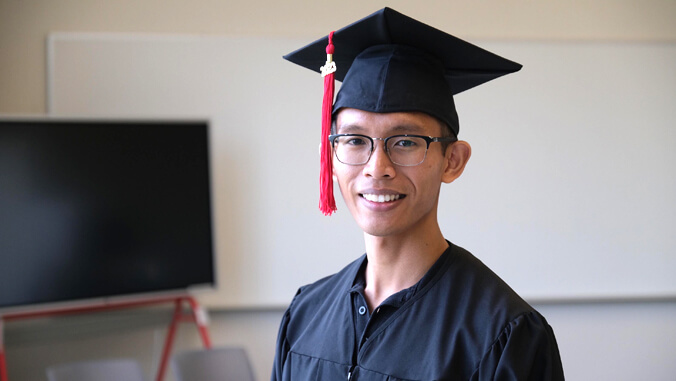 After being selected to address his fellow graduating classmates and guests in attendance at the upcoming University of Hawaiʻi–West Oʻahu spring 2023 commencement, Anthony Tamayo Miguel is taking the honor to heart and is mindful of the messages he hopes to share.
"Thank the people who support you while they are still alive, have the grit to keep moving forward and be the leader you wish you had," said the ʻEwa Beach resident.
Related: Gabriel 'Gabby' Barrientos Navalta: Commencement student speaker is grateful, inspired, April 2023
Miguel will be among the participants and one of two commencement student speakers at the ceremony—which for the first time will be at the Stan Sheriff Center on the UH Mānoa campus—at 9 a.m. on Saturday, May 6.
Miguel will receive a bachelor of education with a concentration in elementary education, as well as an Asian studies certificate.
'One of the top students in his class'
Miguel started the elementary education program at UH West Oʻahu in fall 2021. Faculty and staff within the program noted that Miguel was an exemplary student.
"Anthony is someone who sees what needs to be done and doesn't hesitate to provide support or take on a leadership role," said Laurie James, associate professor of math education.
UH spring 2023 commencement schedule
Richard Jones, professor of science education, added, "Not only was Anthony one to provide support and take on leadership as Dr. James said, he was one of the top students in his class and always willing to mentor his peers when they were challenged by the content or concepts being covered. He is also a 'natural' in the classroom and will be a great asset to the school and community lucky enough to hire him."
Proudest accomplishment
Miguel said one of his most notable accomplishments as a UH West Oʻahu student was creating in 2015 the International Student Club, a Registered Independent Student Organization (RISO) that provides an opportunity for its members to gain awareness and meet the ever-growing international student population at UH West Oʻahu, and to promote student participation in educational, cultural, social and community activities.
"In addition, creating a RISO helped me create a community that focuses on understanding other people from different cultures, families, and personalities," Miguel said.
Beginning of a new chapter
Miguel's college journey took longer than he expected for various reasons—from financial constraints to family health issues, and of course, the pandemic.
"It took me nine years to graduate," Miguel noted. "It wasn't easy, but it took grit and determination to overcome the setbacks and struggles I encountered."
Now Miguel sees his upcoming graduation as the end of a chapter in his life and the beginning of a new one.
"This chapter of my life took a long time to finish, but it was filled with opportunities and experiences I couldn't replace," he said.
Looking ahead, past graduation, Miguel aspires to teach abroad in South Korea.
"I want to experience the similarities and differences in the education systems," he said. "After, I want to return and teach in Hawaiʻi, giving back to my community and sharing knowledge."
Read more about Miguel and his accomplishments at Ka Puna O Kaloʻi.
—By Zenaida Serrano Arvman
More on UH West
Oʻahu

commencement

This semester, more than 300 students are candidates for graduation, and of these students, about 240 will be participating in commencement, which will celebrate applied science, business administration, creative media, cybersecurity, education, humanities, natural science, public administration, and social sciences candidates. UH West Oʻahu graduates from 2020, 2021 and 2022 were also invited to take part in the ceremony, and about 70 have registered to participate.

All guests are welcome to the ceremony on a first-come, first-seated basis, and will be able to greet their graduates following the formal commencement program at the Les Murakami Stadium.

Read more about Gabriel "Gabby" Navalta, who was also selected to be a spring 2023 commencement student speaker.