Keiki (children), parents and community members attended the second annual Earth Day event hosted by University of Hawaiʻi at Mānoa students and faculty at Hale Tuahine in Mānoa Valley on April 22. Participants engaged in various hands-on activities focused on the theme of reduce, reuse and recycle.
The event was sponsored by the Home Garden Network (HGN) of the UH Mānoa College of Tropical Agriculture and Human Resources in partnership with the Family Education Training Center of Hawaiʻi (FETCH).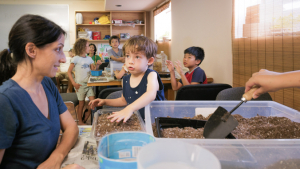 "There are so many items that we regularly use in our kitchens that can be reused and recycled to grow our beautiful gardens starting, for instance, with egg cartons to germinate seeds," said Sothy Eng, an assistant professor of Human Development and Family Studies (HDFS) and founder of HGN. "And this event served as not only a celebration but also a reminder to keep our Earth fresh and beautiful."
The event included growing microgreens, worm composting, a scavenger hunt, germinating seeds using recycled materials such as egg cartons and other plastic bottles and containers, and a bake sale for fundraising.
"Using hands-on activities, we were able to bring to life our theme of 'Reduce, Reuse, Recycle.' We accomplished our goal to spark joy in the children and impress upon them what a privilege it is to care for our Earth," said Laura Bartholomew, an HDFS student.
Keiki explored worm composting using the food scraps that their parents brought from home as a contribution to the event. They also learned how to grow microgreens, which they were able to bring home.
"It was an enjoyable Earth Day in Mānoa with the children and families in the community," said Kylie Maemori-Yoshida, an HDFS student. "They loved the hands-on activities we had, one of which included learning about compost and seeing the worms."
Keiki are the future leaders of Hawaiʻi's community, and it is essential that they understand how to care for the planet by reducing unnecessary waste and utilizing recycled items to grow food. The event also served as an important reminder of the need to take care of our planet for future generations.
"The plants served as a nice way for children and their families to start their own garden at home," said Rosalynn Rico, an HDFS student. "It was encouraging to see people in the community come together and learn more effective ways to reduce their carbon footprint."
The event was supported by four student interns from the HDFS program who were placed with HGN and FETCH. Additionally, 11 students from Phi Upsilon Omicron, a student honor society in the Department of Family and Consumer Sciences, volunteered at the event through various activities.
"Living in Hawaiʻi, I believe it's important to focus on waste reduction, not only for the environment but for the culture and community," said Diana Morales, an HDFS student. "I'm grateful to be able to spread knowledge and awareness, it makes me feel like I'm able to give back to the ʻāina (land) that takes care of us."