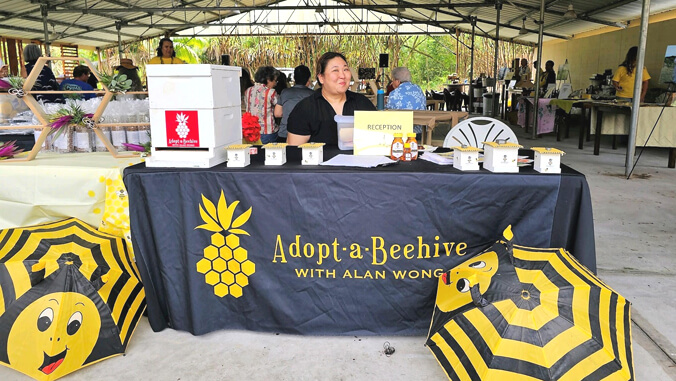 The University of Hawaiʻi at Hilo's agricultural farm laboratory in Panaʻewa hosted a celebratory "Bee-coming Sustainable" event on April 22, to honor students, community donors, local farmers, island chefs and others who are part of the university's collaborative bee program.
At the heart of the event was a community-based partnership between Lorna Tsutsumi, professor of entomology at UH Hilo's College of Agriculture, Forestry, and Natural Resource Management and coordinator of the apiary program at the university's farm, and renowned Chef Alan Wong, co-founder of the university's Adopt-A-Beehive with Alan Wong program.
"Here's where private and public meet, where the community gathered, where there was a real connection of bee-ing," Tsutsumi explained. "There was a sense of ʻohana where we celebrated in both our students and the community."
Wong, regarded as one of the 12 co-founders of Hawaiʻi Regional Cuisine, teamed up with Tsutsumi and UH Hilo to build awareness of the critical plight of honey bees and to promote local solutions to sustaining the honey bee industry.
In addition to Wong, there were several other well-known local chefs and culinary educators preparing food and hosting festivities at the event. Also attending were UH Hilo Chancellor Bonnie Irwin; representatives from the Hawaiʻi Department of Agriculture and Department of Health; university staff from Sodexo's campus dining services; community college instructors and students; and high school students.
Beekeeping scholarships
At the beginning of the program, scholarships were presented to select UH Hilo students. Scholarships are awarded in the spring after students have taken a required advanced beekeeping class.
Valerie Zbesinski, an agriculture major, received the $1,000 Ben and Fusae Fujise Scholarship. Elizabeth Schmitz, another agriculture major, was awarded the $1,000 spring 2023 Adopt-A-Beehive with Alan Wong Scholarship. Wong's Adopt-A-Beehive program has awarded more than $27,000 in scholarships thus far to UH Hilo beekeeping students.
For a full recap of the event, visit UH Hilo Stories.
—By Susan Enright