Three University of Hawaiʻi at Mānoa students were recognized for their outstanding work as top employees at the 38th Annual Student Employee of the Year (SEOTY) Awards Ceremony on April 25 in the Campus Center Ballroom.
The Mānoa Career Center announced that the top honor went to Binierose Cacho, a special programs coordinator with Enrollment Management. Cacho is a senior majoring in economics and psychology and was nominated by Kevin Kaneshiro. She was awarded a $1,000 cash scholarship.
"My position in Enrollment Management allows me to work on projects related to students' concerns related to their enrollment, admissions and financial aid with the university. I enjoy that, as a student, I can see how my work benefits other students and that I can also provide insight on how we can better systems at UH to benefit us all," shared Cacho.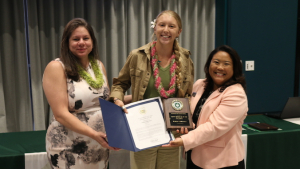 Kaneshiro said in a letter, "Binie rises above the rest in her work ethic, eagerness to share knowledge and capability to take on an ever-expanding list of responsibilities, but her data analysis report pushes her to the extreme, deserving of Student Employee of the Year. Binie's projects have been critically important not only to the function of our administrative services, but with the veteran affairs enrollment certification, applications for admission and publicly available chatbot, her work impacts the entire campus community."
Additional UH Mānoa winners:
Student Employee Team of the Year:
College of Engineering, Dean's Office, nominated by Kimberly Perez Hults, director of marketing and outreach relations. Team members include Philip Amona, Jared Antonio, Mia Casparian, Darryl Dela Cruz, Adam Hu, Khaldoon Ishmael, Joshua Lorica, Joy Maehara, Brandon Pang, Dedrick Sakuma, Elizabeth Talioaga and Christianne Young.
UH Mānoa has celebrated the Student Employee of the Year Awards since 1986, recognizing outstanding student employees throughout campus. The awards are from proceeds generated by the annual Craft Fair & Silent Auction, traditionally held on campus on the Friday before Thanksgiving.