The University of Hawaiʻi Rainbow Warrior volleyball team fought tough in one of the most epic national championship matches in Division I men's volleyball history, but eventually fell to UCLA in four sets, 28-26, 31-33, 25-21 and 25-21. Despite losing in the title match, the Rainbow Warriors capped off one of the most dominant runs ever in the sport, making it to four consecutive national championship matches and winning two of them in 2021 and 2022.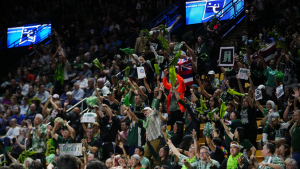 AVCA National Player of the Year and two-time Big West Player of the Year Jakob Thelle commanded the UH offense with 50 assists. First Team All-American and First Team Big West selection Dimitrios Mouchlias led the attack with 18 kills hitting .267.
Second Team All-American and First Team Big West selection Spyros Chakas contributed 12 kills and Honorable Mention All-American and First Team Big West selection Chaz Galloway added 11 kills.
First Team All-American and First Team Big West selection Guilherme Voss added eight kills and three blocks, and junior middle blocker Cole Hogland contributed six kills and seven blocks.
The 'Bows got to the championship match after beating Penn State in a five-set marathon semifinal match, while the Bruins took down Long Beach State in straight sets in the first semifinal. UH ended the season with a 29-3 record, while UCLA improved to 31-2.
Game script
UH got out to an early 2-0 lead in the first set and extended the lead on a massive solo block by Hogland at 9-6. UCLA rattled off three consecutive points before Galloway silenced the Bruin crowd on a big kill from the back row to regain the 10-9 lead. Teams traded points before UCLA took a narrow lead at 14-12. The Bruins kept their two-point lead before a kill by Mouchlias and a block by Thelle and Hogland tied the set at 16. A clutch service ace by senior outside hitter Kanaʻi Akana helped UH regain its lead by the slimmest of margins at 18-17. Both teams were deadlocked at 20, but a pair of hitting errors by the Bruins and a kill by Chakas gave the Rainbow Warriors a three-point lead at 23-20. The Bruins fought back winning the next three points, eventually forced extras and surged ahead taking the set, 28-26.
It was a tightly contested opening to the second set, with both teams exchanging leads of just one. A UCLA service error tied the set at seven, before a pair of Bruin kills gave UCLA a 9-7 lead. Kills by Voss and Mouchlias kept the Bruin lead to two at 13-11, before UCLA surged ahead 15-11 into the media timeout. UCLA extended its lead to six at 19-13 on a block, before the Rainbow Warriors mustered a comeback on three straight points forcing the Bruins to call a timeout at 19-16. After the Bruins took a 22-18 lead on a service ace, the Rainbow Warriors racked up three straight points forcing UCLA to call another timeout at 22-21. An attack error by UCLA tied the set up at 23, then a Hogland kill after a marathon point gave UH a 24-23 advantage. Both teams continued a heart-stopping sideout battle, before a kill by Galloway and a block by Thelle and Hogland gave the Rainbow Warriors a 31-30 lead. After a kill by the Bruins to tie it up at 31, a Chakas kill and a massive Mouchlias kill gave the Rainbow Warriors the second set, 33-31, after eight set point opportunities.
The third set opened up with teams alternating the first 14 points, before a Bruin service error and a Chakas service ace gave UH a slim two-point lead at 9-7. After a kill by both teams and a UH service error and Bruin kill, the set was tied at 10. UCLA leapt out ahead 14-12 and then maintained its two-point lead at 15-13 going into the media timeout. UCLA took the next point, then a critical coach's challenge went the Rainbow Warriors way to trail by just two points at 16-14. The Bruins then went on a 4-1 run to take a 20-15 lead, but the Rainbow Warriors fought back with a kill by Voss and a block by Galloway and Hogland, forcing the Bruins to call a timeout at 20-17. After a UCLA kill, Hogland slammed down a kill and assisted on a block with Thelle to close the gap to two at 21-19. The Bruins answered back on a kill and a service ace leading 23-19 and never looked back taking set three, 25-21.
UH got out to a quick 3-2 lead in the fourth set on a pair of kills by Galloway and Chakas. The Bruins went on a short scoring run before another successful coach's challenge by UH tied the set at six. The Rainbow Warriors cut the Bruin lead to one at 12-11 on a kill by Voss, but UCLA surged ahead into the media timeout on three straight points, leading 15-11. A block by Hogland and Galloway, and then a kill by Galloway, closed the deficit to two at 15-13. The Bruins then surged in front 18-14 on a pair of kills, forcing UH to call a timeout. After another UCLA kill, the Rainbow Warriors put down kills by Galloway and Chakas to close the gap to three. Two straight points by UCLA forced UH to call another timeout, down 21-16. The Rainbow Warriors fought hard at the end of the set, but ultimately fell to the Bruins, 25-21.
For more, visit the UH Mānoa athletics website.
—By Marc Arakaki
Mahalo Hawaiʻi, for coming on yet another epic ride with us. We'll be back…
#WarriorBall23 #GoBows #NCAAMVB

— Hawaii Men's Volleyball (@HawaiiMensVB) May 6, 2023