Eight Farrington High School seniors will earn associate's degrees from Honolulu Community College on May 12 before they receive their high school diplomas, thanks to the University of Hawaiʻi and the Hawaiʻi Department of Education dual-credit programs that have served more than 27,114 local high school students since 2013.
The programs—Early College and Running Start—allow high school students to take free college classes and receive both high school and college credit (dual credit) for successful completion of 100-level and above courses. High school students taking Early College courses can take their classes in a variety of ways—face-to-face on the high school campus, online or hybrid. Running Start allows students to take a college course at a UH campus as part of their high school coursework. Over the 2021–22 school year, more than 50 public high schools across the state partnered with UH to offer more than 500 Early College classes.
Honolulu CC started offering two Early College classes to 46 Farrington students in 2014. By 2022, there were nine Early College courses and enrollment had quadrupled to 184 students.
Among these motivated Farrington students are soon-to-be Honolulu CC graduates Leilani Joy Dela Cruz, Rachelle Anne Sales Manuel, Kuʻuleihoku McConnell, Cardenas Pintor, Norine Quach, Cadyn Ramos, Rachael Ahfook Tamapolu and Kailee Umaga-Silva.
Pride and opportunities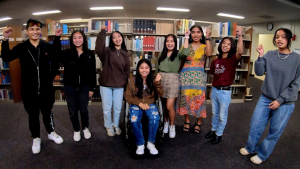 "Opportunities were everywhere!" said Dela Cruz, who aspires to own a business. "So many of my professors were so kind and helped me adjust to college life, alongside my various classmates. Everyone has been such a pleasure to talk to in class, and there's so many ways to get involved in college. In the fall, I started going to my home campus to study, and there were so many events that made me want to continue going."
"Having my pride all the way up—that's how it feels like," said Tamapolu. "I'm walking my high school campus, knowing I'm going to get an associate's degree."
She said her long-term goal in life is to buy her mother a house.
According to Vice Principal Hartwell Lee Loy, Farrington High School serves students from five neighboring housing projects. He encourages students to utilize these free opportunities to earn college credits, especially because it can save families a lot of money.
Lee Loy and others involved in the partnership emphasize that any number of dual-credit classes will help students and their families, whether or not they end up leading to early college degrees. However, from 2014 to 2021, more than 80 students have earned associate's degrees while still in high school.
"Early College/Running Start is a great program, especially for low-income, first-generation students, where people might think that they can't do it, they don't have the skills to do it," said Regan Honda, a college and career counselor at Farrington. "We have great students. They're very motivated. They want to achieve. So that's why they take part in this program."
Preparing for the future
"The journey and the experience was rough mentally, but it gave me preparation for the future," said Umaga-Silva, who wants to someday go into cybersecurity for the military or the FBI.
Honolulu CC Academic Counselor Jean Maslowski said what the eight students are accomplishing is "tremendous" and encourages all public high school students to check with their counselors to learn more about Early College and Running Start.
"Anyone can succeed in college, they just need to be given a chance," Maslowski said, "It can give them the opportunity—when they learn more, they will earn more—and set a good example for younger siblings and possibly even parents in the household to say, 'I did it. You can do it, too.'"
Ramos, an aspiring chef and restaurateur, added that his family is going to be proud of him when they see him holding his associate's degree.
He said, "What I would want future students to know is to never waste opportunities that are given to you."
—By Kelli Abe Trifonovitch