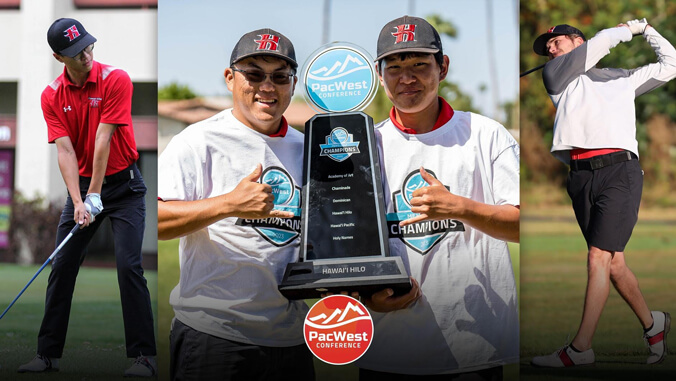 Members of the University of Hawaiʻi at Hilo men's golf team were honored with top PacWest Conference awards for the 2023 season. Andrew Otani was named PacWest Golfer of the Year, Junsu Im was selected as Freshman of the Year and Coach Earl Tamiya won Coach of the Year. The awards were voted on by the PacWest Conference coaches.
UH Hilo finished third in the 21-team NCAA West Region Spring Preview, which was held April 10–11 in Rohnert Park, California. They then carried that momentum into the PacWest Championships held April 17–19 in Arizona, where they led from start to finish and claimed the banner by 10 strokes.
One of the reasons for that strong finish was Otani. The fifth year senior, who began his career by winning the PacWest Freshman of the Year award in 2019, shared the 2023 medalist award with Im. He rode rounds of 69-73-75 to finish at +1 for the tournament. He was consistent throughout the three days and had eight birdies.
Im, a freshman, had a similar story. Finishing at +1 as well, he turned in scorecards of 71-71-75. He had 10 birdies during the tournament.
Im and Otani are the first Vulcans to win medalist honors since 2011. They are also part of the All-PacWest First Team, along with Keith Ng. Dustin Franko also earned a spot on the second team.
Veteran coach Earl Tamiya has been the coach of the Vulcans since 1991. A beloved leader, Tamiya coached his team through a slow start this season, to peak at the right time to win their first conference championship since 2014.
The Vulcans will now advance to the NCAA West Region tournament, May 11–13 in Rohnert Park, California. The top three teams from the West Regional will advance to the NCAA Championships in Warren, Ohio, May 22–26.