On May 13, Kanela Kamahalohanuilai, a Thompson School of Social Work & Public Health student, will join hundreds of other University of Hawaiʻi at Mānoa students at the spring commencement and earn her masters of social work diploma. This milestone in her education is no small accomplishment considering that she is a mother of seven children, has a full-time job and faced personal challenges, including homelessness.
Kamahalohanuilai plans out every hour of her day to find time to study between her 10-hour shifts as a youth housing case manager at Residential Youth Services and Empowerment. In this position, she works with at-risk youth, helping them find safe, affordable housing, making sure that their basic needs are met, and providing emotional support.
UH spring 2023 commencement schedule
"My goal is to help minors develop habits that a parent would normally teach them," Kamahalohanuilai explained. "I connect and build trusting relationships with them. Doing this enables me to figure out the client's barriers so we can overcome them one task at a time."
Persevering through adversity to reach degree
Kamahalohanuilai's important work with Hawaiʻi's youth is deeply personal. As a child, she was homeless, living at Kailua District Park. When she became pregnant with her first child, she dropped out of high school and continued to struggle to find stability.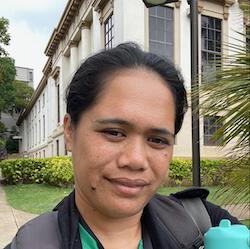 Hawaiʻi Job Corps reached out and helped her get her GED and a job as an automobile mechanic. Through this hand-up, she was able to enroll in community college courses and graduated in 2018 with her associates in arts in liberal arts from Windward Community College, and later her bachelor's degree in social work at UH Mānoa in 2020.
Throughout her time in undergraduate school, Kamahalohanuilai experienced several obstacles in her personal life including the death of her father, abuse by her ex-partner and an unplanned pregnancy that threatened her physical health. These issues took a toll on her mental health as well, and she battled with anxiety and depression. Nevertheless, Kamahalohanuilai did not let her struggles prevent her from pursuing an education, and she continued to apply herself to learning during this time.
"I remember one time my anthropology professor called me out in class, because I was falling asleep, by asking me if his class was too boring for me," she said. "I later explained to him that I was on a new medication that I was not yet familiar with, and it was making me drowsy. He apologized, and we moved forward."
On the right path
Fast-forward to fall 2020, when Kamahalohanuilai won the Soroptimist Award, a financial award that is given to women who are the primary financial providers for their families. This money enabled her to continue her education and begin the Masters of Social Work Program at the Thompson School. She contributes her educational success to the support system she has built up around herself.
I have a great support team in my community, my job and my university.
—Kanela Kamahalohanuilai
"I have a great support team in my community, my job and my university. They have all been there for me in some way or another and supported me through my successes and downfalls. They never judged me and continued to find ways to help me during my time of need," she said.
Referring to the Department of Social Work, Kamahalohanuilai said, "They are my home away from home."
Finding support through student programs
Much of the assistance she received came through UH Mānoa's student support programs. The Student Parents at Mānoa program helped her provide for her family during holidays and ensured her children had school supplies; the Prevention, Awareness & Understanding Violence Program became a safe space to help her heal from childhood trauma; and the Native Hawaiʻi Center provided her with a quiet space to study.
To Kamahalohanuilai, education is a means to better not only herself but also her community.
"My education has empowered me to know that I am able to overcome all sorts of obstacles," she said. "I will continue to use my degree to empower, encourage and support people of all ages who need a hand up and provide them with resources to help them have the courage to end generational cycles."
—By Maria Pou