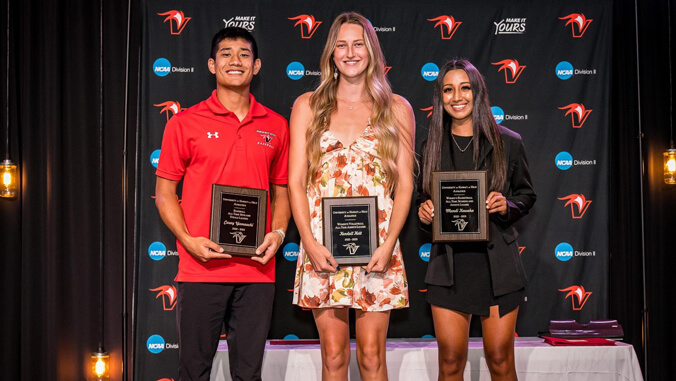 The University of Hawaiʻi at Hilo athletics program wrapped up the 2022–23 school year with its annual All-Sports Banquet, held last week at The Arc of Hilo.
Baseball player Casey Yamauchi and women's soccer player Jodi Lillie were named male and female athletes of the year, respectively, with women's soccer tabbed as the Vulcan team of the year.
Yamauchi and Lillie, both fifth-year seniors, have played integral roles in helping to build their respective sports programs over the last handful of seasons, culminating in achieving top 25 rankings by both squads this season and an undefeated regular-season run to claim back-to-back Pacific West Conference Championships for women's soccer.
Men's tennis player Luca Matheiowetz and women's basketball player Bree Olson both maintained a 3.91 cumulative GPA to earn this year's Joe and Harriet Estrella Male and Sakai and Harue Wakakuwa Female Scholar-Athlete honors, respectively. To be eligible, student-athletes must have been active this season of competition and been in attendance at UH Hilo for at least five semesters.
The Ramon Goya Academic Teams of the Year for highest combined GPA went to women's soccer (3.48 GPA) and women's tennis (3.47 GPA)—both are repeat winners.
In addition to several student-athletes from each team receiving scholar-athlete and "Most Pono Vulcan" honors, the women's soccer team also took home the community engagement / service award for more than 700 combined hours volunteering in the local area.
Departing seniors from each team were also recognized with special recognition for women's volleyball player Kendall Kott, women's basketball player Mandi Kawaha and Yamauchi for setting new all-time program records during the season.
For a full list of honorees, visit hiloathletics.com.