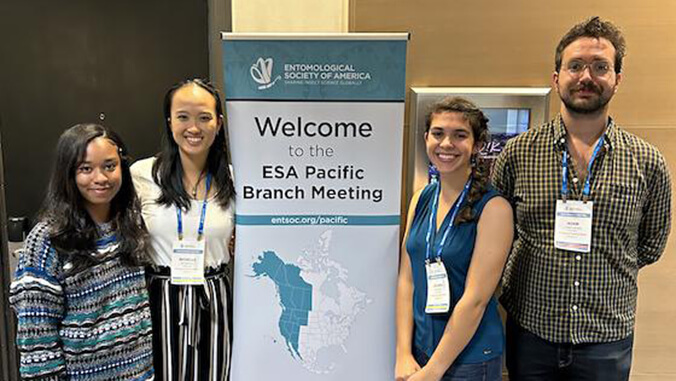 A team of graduate students has brought home a win from the Pacific Branch Entomological Society of America (ESA) meeting on April 3, in Seattle, Washington. The team represented the graduate program in Entomology and the Department of Plant and Environmental Protection Sciences' (PEPS), University of Hawaiʻi at Mānoa College of Tropical Agriculture and Human Resources (CTAHR).
Consisting of students Michelle Au, John Adam Lawrence, Maisha Lucas and Juliana Salehi, the entomology team narrowly beat the University of California-Riverside in a tense tie-breaker, then went on to beat Washington State University in the final round.
The win qualifies them to compete at the national-level Entomology Games in November 2023 at the ESA's annual meeting in National Harbor, Maryland. The PEPS' entomology team won the Entomology Games in 2021.
The students are graduate research assistants and undergraduate students in the research labs of Mark Wright and Jia-Wei Tay, both professors and extension entomologists. Students were coached by Wright.
"Our students put a lot of work into this," said Wright. "They study all the time, including practice runs during lunch on a wide variety of topics in entomology down to the most obscure facts about insects. I'm confident our team will proudly represent UH Mānoa at the national contest in November."
Tay added, "They did it, and we're so proud of them! I have faith in our current team for the upcoming national competition!"
The ESA provides each team with a travel award to assist them in getting to the national meeting. The students are also supported by the Au Yeung, Sui Shan and Emmett Richard Easton Scholarship at CTAHR; Tanada Family Entomology Fund; and Nan-Yao and Jill H. Su Endowed Fund for Urban Entomology.