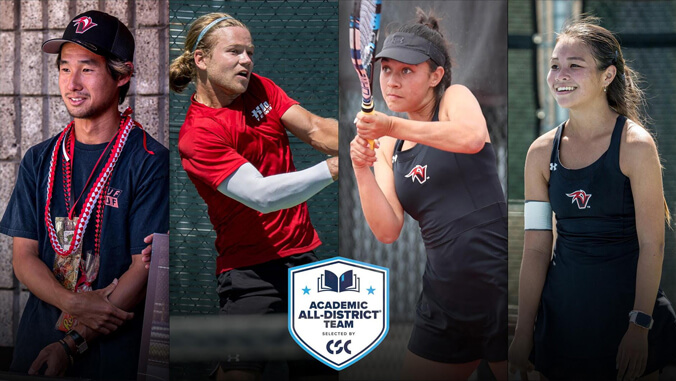 Four University of Hawaiʻi at Hilo tennis players were named to the 2022–23 men's and women's College Sports Communicators (CSC) Tennis Academic All-District Teams on May 9. Joshua Liu and Luca Matheiowetz were recognized from the men's tennis team, and Julia Barden and Casydee De Mattos were honored from the women's tennis team.
The award recognizes the nation's top student-athletes for their combined performances on the court and in the classroom. To be eligible, a student-athlete must have been a starter or important reserve with at least a 3.5 cumulative GPA (on a 4.0 scale) and completed one full calendar year at their current institution.
Liu is a sixth-year senior with a double major in communication and political science.
Matheiowetz is a junior business administration student working on concentrations in both finance and accounting. Last year, he also earned CSC All-District Men's At-Large Team honors.
Barden and De Mattos are both juniors working toward degrees in psychology.
Academic All-District Team honorees advance to the Academic All-America ballot. First-, second- and third-team Academic All-America honorees will be announced on June 1.