Craig Angelos is the new University of Hawaiʻi at Mānoa athletics director, effective June 5, 2023, stepping into one of the highest profile jobs at UH and the state of Hawaiʻi. The UH Board of Regents (BOR) approved Angelos by a vote of 8-2 and one abstaining today, May 18 at the BOR monthly meeting at Honolulu Community College. He will be responsible for the state's only NCAA division one program with 21 sports teams, approximately 125 full-time coaches and staff, more than 450 student-athletes and an estimated $45 million annual operating budget.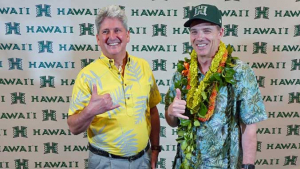 "I can assure you that I will bring respect, kindness, understanding, along with talent and accomplishment and we will all work together for success," said Angelos. "I want to listen and learn about the culture and the people, immerse myself in the community, and get to know as many of you personally as I can. In fact, since I was recommended, I have had people assist me in reaching into the community and connecting me with business and political leaders through calls and texting. And look back after a year and see how I have done. I am confident that you will be pleased."
Angelos has nearly 30 years of senior leadership experience in intercollegiate athletics and succeeds David Matlin. He previously served as the athletics director at Florida Atlantic University from 2003 to 2012 and as the number two person at University of Miami (Fla.), Indiana University, University of South Florida, Temple University and, most recently, Long Island University. UH President Lassner recommended Angelos to the BOR after a nationwide search.
"There is an excellent foundation of success here, one that includes maximizing the student athlete experience, graduating them with degrees and helping them advance to the next stages of their lives, fielding competitive teams and representing the community and state in a first class manner," said Angelos. "In this new era of collegiate athletics, we will continue this tradition of success while also adapting to the changing landscape."
Angelos has extensive experience overseeing student-athlete wellness and academic success, hiring head coaches, supervising men's and women's sports programs, Title IX and NCAA compliance and developing facilities including a 30,000-seat football stadium at FAU. He comes to Hawaiʻi with a proven track record in fundraising, securing corporate sponsorships and creating new revenue opportunities along with a deep understanding of the changing intercollegiate athletics landscape including NIL, collectives, transfer portal and conference realignment.
"Individually we may go faster, but together we can go further. I am here to tell you that we WILL go further," said Angelos. "Not only will our brand grow nationally, but I genuinely believe we can place the University of Hawaiʻi at the forefront of international success. We will be bold and try new approaches, which will help maximize our success and growth as an institution."
Angelos earned his bachelor of arts at Brigham Young University where he was a starter on the baseball team, and earned his law degree from Creighton University School of Law. His annual salary will be $325,212, the same as outgoing AD Matlin. Angelos has been married to his wife Kristin Angelos for over 30 years and has six children.