Jiin Park presented his undergraduate research on the effectiveness of concussion legal regulation in the U.S. compared to Japan at the National Conference on Undergraduate Research (NCUR) held at the University of Wisconsin–Eau Claire in April 2023.
While there, a local television station interviewed the then University of Hawaiʻi at Mānoa undergraduate student about his research, which compared the knowledge and beliefs toward concussions between the two countries, as Japan does not have any legal regulations. Park's research, under the mentorship of Department of Kinesiology and Rehabilitation Science (KRS) faculty member Kyoko Shirahata, demonstrated that the U.S. participants had significantly higher knowledge and a favorable attitude toward concussions compared with Japanese participants, indicating the importance of legal concussion regulation to participate in sports safely.
Park, a spring 2023 KRS graduate in the College of Education, was supported through presentation funding from the Undergraduate Research Opportunities Program (UROP) at UH Mānoa.
"Presenting and having a discussion about my study with other participants about their studies at NCUR deepened my understanding of my own study and expanded my views of research," Park said. "Furthermore, what made my presentation experience even more interesting was the opportunity given to me to be interviewed by WQOW, a television station in Eau Claire, Wisconsin. This experience has been a firm cornerstone of my academic journey of pursuing my doctor of physical therapy degree, and it ignited my passion for research even more."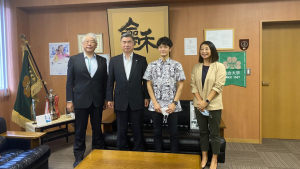 Park was also awarded UROP's project funding, which supported his trip to Sendai University in Japan for data collection in summer 2022. Shirahata is a former Sendai University faculty member who currently works as a coordinator between the two institutions. As the only university specializing in physical education and sports/health sciences in northern Japan, Sendai University welcomed Park to conduct his concussion research. This research activity further strengthens the more than 20-year relationship between Sendai University and KRS.
"This international research experience has been extremely special," Park said. "The research process was exciting and the interactions with Sendai students were something that I could not have gained through the classes."
"Jiin worked very hard to complete this project for over a year, and it was truly fulfilling to witness his success as a researcher," Shirahata said. "The long-term friendly relationship between the two institutions empowered him to accomplish such great success. I hope to mentor more undergraduate students like Jiin and provide students with a unique international research experience."
Park was accepted into the doctoral physical therapy program at Northwestern University and aspires to become a professor.
UROP funding available
UROP awards more than $500,000 in scholarship funding annually to support faculty-mentored undergraduate student research and creative work projects and presentations . Most awards go toward supporting student projects; however, UROP also encourages students to take advantage of its presentation funding opportunity, which includes support to showcase their work at local, national, and international conferences, venues, competitions, etc.
"UROP is very proud of Jiin and appreciative of Dr. Shirahata's faculty mentorship," said Seung Yang, UROP assistant director. "Sharing one's scholarship outside of our campus is an integral part of conducting faculty-mentored research and creative work. We are pleased to have supported Jiin throughout his undergraduate research journey at UH Mānoa as Jiin applied for and received not only UROP project funding to do research, but also UROP presentation funding to share his research with a national audience."
Yang added, "UROP encourages all undergraduate students at UH Mānoa to participate in undergraduate research opportunities, both inside and outside of UROP, to elevate their academic experience at UH Mānoa."
For questions about UROP or to get started on your journey, visit UROP's website or email urop@hawaii.edu.