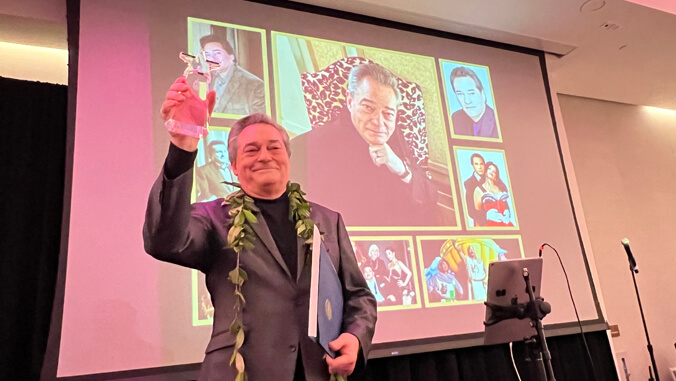 Larry Paxton, University of Hawaiʻi at Mānoa Department of Music chair and professor, was recognized by the National Society of Arts and Letters (NSAL)–Hawaiʻi Chapter at its Roselani Gala, May 18, at the ʻAlohilani Resort Waikiki Beach. Paxton earned the Star of Excellence Award and was honored alongside Hawaiʻi legend and multiple award-winning singer-songwriter Melveen Leed.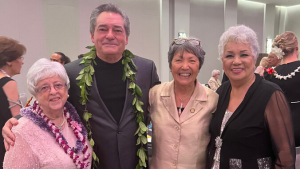 "I am extremely touched to be honored by such an important artistic group based here in Hawaiʻi," Paxton said. "NSAL's supportive work within a diverse group of artistic educational programs and performance ensembles is extraordinary. I hope that my artistic contributions to my community and state will honor NSAL's ʻohana and mission. I am truly honored!"
"Larry received the Star of Excellence Award from the National Society of Arts and Letters–Hawaiʻi Chapter, not only for his many contributions on both musical theatre and opera stages here and around the world, but also for his efforts in transforming the UH Music Department into a rich resource for the greater community," said Ann Renick from the NSAL–Hawaiʻi Chapter.
NSAL assists promising young artists through competitions, financial assistance, master classes, mentoring and helps provide many different career opportunities.
More about Paxton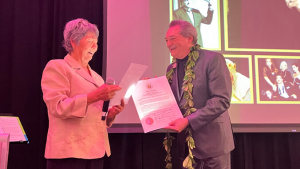 Paxton, who is a multi-talented musical theatre and opera performer, has been a professor at UH since 1985. He earned a master's of music with honors from the Jacobs School of Music at Indiana University. He has performed more than 30 operatic roles in New Mexico, Memphis, Dallas, Fort Worth, St. Louis and Hawaiʻi. His credits also include modern opera world premieres and telecasts and appearances with symphony orchestras, such as San Francisco, Dallas, Indianapolis and Honolulu, and has also performed at the Sydney Opera House. Paxton won the Metropolitan Opera regional auditions, was a finalist in the San Francisco Merola Competition and took first place in the Beethoven Vocal Competition.
In musical theatre, he has established himself as an award-winning director whose Diamond Head Theatre shows have included Sunday in the Park with George, Joseph and the Amazing Technicolor Dreamcoat and Jesus Christ Superstar. Critics have praised his performances with Grand Hotel at Mānoa Valley Theatre, West Side Story at UH's Kennedy Theatre, the title role in Sunday in the Park with George and the lead role of Guido in a specially mounted production of Nine at Diamond Head Theatre.
Paxton has received proclamations from the governor, Honolulu mayor and State Senate praising his academic achievements at UH Mānoa over the years, his artistic contributions to the state and extensive performance résumé in Hawaiʻi and around the world.