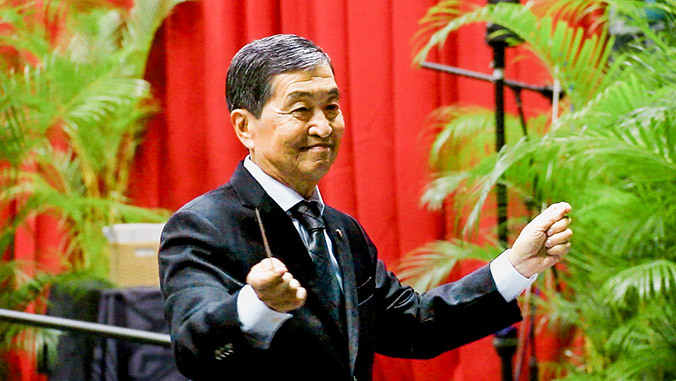 The University of Hawaiʻi–West Oʻahu's University Band co-director Michael Nakasone was honored with the National Band Association 2022 Al & Gladys Wright Distinguished Legacy Award, given for lifetime achievement.
Some of Nakasone's accomplishments include dedicating 36 extraordinary years to Hawaiʻi's public schools, receiving the Hawaiʻi Music Award for Lifetime Achievement in 2005, and serving as bandmaster of the famed Royal Hawaiian Band from 2005 to 2010.
"I was really surprised and very humbled," said Nakasone, who was also inducted into the National Band Association Hall of Fame of Distinguished Conductors in 2020. "It is truly a huge, huge honor to be the recipient of this very prestigious award."
Nominees of its Al & Gladys Wright Distinguished Legacy Award must have a minimum of 30 years of distinguished service to the profession, supporting the mission and goals of the National Band Association, which include the promotion of the concert band and concert band music, teaching, mentorship, scholarship and service to the band profession.
"Bandmaster Nakasone is a wonderful example of what one can achieve when we have passion, dedication and excellence," said Chadwick Kamei, founder and co-director of UH West Oʻahu's University Band and Pearl City High School band director. "He has paved the way for music educators and musicians around our state to bring out the best in all that they do."
Nakasone's 50-plus years as a music educator includes 28 years at the helm of the acclaimed Pearl City High School Bands (1977–2005) and 21 years as maestro with the Hawaiʻi Youth Symphony (1990–2010).
He is the recipient of numerous awards, including the John Philip Sousa Foundation Legion of Honor Award in 1995, Hawaiʻi's State Teacher of the Year in 1996, the United States Collegiate Wind Bands Citation of Honor Award in 1998, and the Living Treasures of Hawaiʻi Award in 2013. Nakasone was also inducted into the High School Band Directors National Hall of Fame in 2013.
Read more about Nakasone at Ka Puna O Kaloʻi.
—By Zenaida Serrano Arvman